Regals Earn ACWPC Academic Awards
Team, twelve honored for academic achievement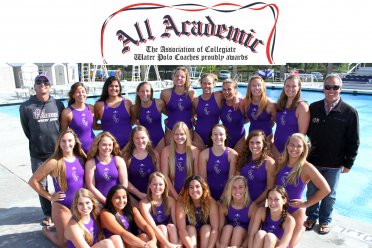 BRIDGEPORT, Pa. – The 2017 Association of Collegiate Water Polo Coaches (ACWPC) All-Academic teams and individual honorees were released earlier this month and Cal Lutheran was honored for the fifth straight season as a team while a dozen Regals reeled in individual accolades.
CLU combined for a 3.26 grade point average (GPA) as a team to finish 21st in the nation for all Divisions, including I, II and III. Of the 12 individual student-athletes honored, five earned Outstanding recognition, four finished with Superior accolades and three took home Excellent honors.
Finishing her career with four ACWPC All-Academic accolades was senior Logan Young who graduated in May with a degree in business administration after spending four years on the Regals water polo team. She was one of five players to earn Outstanding status which recognizes student-athletes who earned between a 4.0-3.71 GPA. Young was twice an Outstanding honoree and two-time Superior selection.
Joining Young in the Outstanding category this year were junior Sam Wulfestieg, a three-time honoree in the category, sophomore Nicole Guerriero, who earned Superior status a year ago, and freshmen Christin Hirn and Victoria Rose Meek.

The quartet of sophomore Megan Seeman, a two-time honoree after earning Excellent status last year, and freshmen Madelynn Silvis, Mackenzie Thomas and Remy Wilkison each notched a GPA of 3.70-3.41 to garner Superior recognition.
Finally, the trio of junior Maddie Campbell and sophomores Mardell Ramirez and Nikki Roed each took home Excellent honors after earning between a 3.40-3.20 GPA. Campbell was recognized as Superior and Outstanding in 2016 and 2015, respectively, while both Ramirez and Roed were listed under Superior last spring.

Eleven of the 12 honorees will return to the classroom and pool in 2017-18.

Release: 2017 ACWPC All-Academic
CLU Instagram: http://instagram.com/clusports#
W Water Polo Instagram: http://instagram.com/regals_water_polo/
CLU Twitter: https://twitter.com/clusports
W Water Polo Twitter: https://twitter.com/CLUwWaterPolo
CLU Facebook: https://www.facebook.com/clusports
Hashtags: #clusports #ownthethrone #goregals