Four Finish with All-America Nods
CLU water polo recognized nationally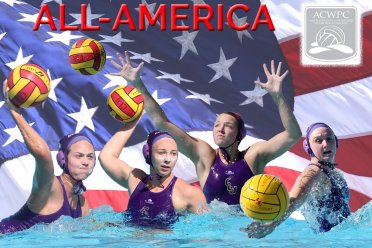 BRIDGEPORT, Pa. – Announced yesterday by the Association of Collegiate Water Polo Coaches (ACWPC), four Cal Lutheran women's water polo players landed on the 2017 All-America teams for the Regals.
Kristi McGee became a two-time selection with a First Team All-America nod after earning Honorable Mention in 2016. The trio of Bailey Meyer, Nikki Roed and Victoria Rose Meek was first time honorees with both Meyer and Roedearning Second Team All-America honors and Meeknotching Honorable Mention status. The Southern California Intercollegiate Athletic Conference (SCIAC) also recognized McGee (First Team), Meyer (Second Team) and Roed (Second Team) this spring.
During her junior campaign, McGee was a threat at both ends of the pool as a center defender for the Regals. She played in 28 games with 26 starts and finished in the top-three on the team in every positive category. She scored 37 goals with 35 steals, 25 drawn ejections, 15 assists and 10 field blocks. McGee shot .446 percent, converting on 37-for-83 attempts.
As the starting goalkeeper, Meyer quickly made a name for herself, starting all 28 games. She recorded 281 saves and led the conference in the category as well. She also led the Violet and Gold with 39 steals. In 15 games she tallied 10 or more saves and set a new single-game record at CLU with 18 stops against St. Francis on Feb. 26. Meyer worked 844 minutes during 108 quarters of action this season and allowed just 7.39 goals per game.
Another sophomore, Roed enjoyed a breakout season as well. She started 26 times and appeared in 28 games overall. She paced the offense as a utility player, scoring a team-high 47 goals with a .495 shooting percentage on the season. She was a balanced player who added 21 drawn ejections, 15 steals, 12 assists and seven field blocks for Cal Lutheran.
Finally, in her first season of collegiate water polo Meek made an immediate impact in the pool. The freshman from Coronado, Calif. appeared in 27 games, earing three starts. She led the team in drawn ejections with 60 to tie for sixth in a single-season at CLU. Meek was also among the top-three on the team in goals with 31, producing eight multi-goal games, while adding 15 steals, four assists and two field blocks for the Regals.
All four players return to the water next spring for a Cal Lutheran team that finished 15-13 with a 6-5 SCIAC mark to place fourth this season.
The 2017 Division III Player of the Year came out of the SCIAC in Christina Williamson, a senior from Pomona-Pitzer who was also selected as the SCIAC Player of the Year. Scott Reed from Macalester (Minn.) was named the Coach of the Year.
Release: 2017 All-America
CLU Instagram: http://instagram.com/clusports#
W Water Polo Instagram: http://instagram.com/regals_water_polo/
CLU Twitter: https://twitter.com/clusports
W Water Polo Twitter: https://twitter.com/CLUwWaterPolo
CLU Facebook: https://www.facebook.com/clusports
Hashtags: #clusports #ownthethrone #goregals