Regals Rally for 2OT Victory at SCIAC Championships
McGee nets six in win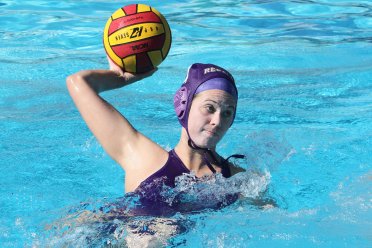 LA VERNE, Calif. – Entering the 2017 Southern California Intercollegiate Athletic Conference (SCIAC) women's water polo Championships, the Cal Lutheran team was seeded fourth and remained in the winner's bracket after defeating fifth-seeded Claremont-Mudd-Scripps 9-8 in double overtime at the La Verne Aquatics Center today.
In a sound team effort, the Regals had many contributors en route to the nail-biting win. Junior center defender Kristi McGee had a big game with a half-a-dozen goals, Victoria Rose Meek drew three ejections, Logan Young came away with three steals and Bailey Meyer recorded 13 saves as the goalkeeper.
CLU and CMS exchanged first quarter goals before the Athenas took a 3-1 advantage into halftime. Out of the break, Cal Lutheran controlled things, scoring four goals and allowing just one, but a pair from CMS scores and just one by the Regals in the fourth frame forced overtime. Again, both sides scored in the first overtime with McGee finding the back of the net with 10 ticks to play in the period before both Sam Wulfestieg and KC Brendel scored with the senior notching the game-winner at the 1:43 mark before the defense held strong as time wound down.
Rounding out the scoring was Nikki Roed while she, Wulfestieg and Megan Seeman, who won four total sprints, two in regulation and both in overtime, each added an assist. Mardell Ramirez switched off with Seeman sprinting and won the other two in the second and fourth quarters.
Claremont-Mudd-Scripps out-shot Cal Lutheran 35-25 today. The Athenas earned one more exclusion, 10, than CLU and went 2-for-7 on power plays while the Regals finished 1-for-9 in man-advantage situations. McGee converted the only five-meter opportunity for the Violet and Gold.
CLU played its third double overtime game of the SCIAC season today after taking both Whittier and Pomona-Pitzer, the top two seeds, to OT during regular season competition.
Cal Lutheran (15-11, 6-3 SCIAC) will play top-seeded Whittier tomorrow at 12:30 p.m.
Box Score: CLU 9, CMS 8 (2OT)
CLU Instagram: http://instagram.com/clusports#
W Water Polo Instagram: http://instagram.com/regals_water_polo/
CLU Twitter: https://twitter.com/clusports
W Water Polo Twitter: https://twitter.com/CLUwWaterPolo
CLU Facebook: https://www.facebook.com/clusports
Hashtags: #clusports #ownthethrone #goregals