Division III Week Feature: Nicole Guerriero
Nervous system disease led sophomore to athletic passion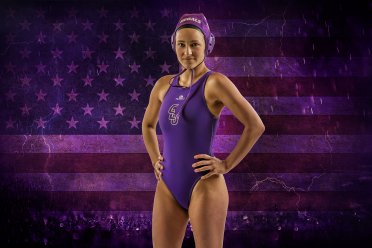 THOUSAND OAKS, Calif. – For Nicole Guerriero, being a Division III student-athlete means more than being able to pursue her passion for a sport while being able to keep up with her academics. To Guerriero, being at a Division III school meant being given a second chance.
At 12 years old, Guerriero had to change her life in a way that mysteriously lead her to her new passion: water polo. She was diagnosed with Complex Regional Pain Syndrome (CRPS) or more commonly known as Reflex Sympathetic Dystrophy (RSD). This disease is nervous and immune system disorder where nerves misfire and send constant pain signals to the brain. It effects almost all body systems and some symptoms include severe pain, bone changes, joint deterioration, skin abnormalities, swelling, and hypersensitivity to light and touch. While Guerrero has type one of the disorder where there is no inciting incident to cause the onset of symptoms, but doctors told her that stress can be a strong factor in causing RSD.
Because of the effects, she was forced to give up her original loves of dance and karate because they were causing too much stress on her body.
"After my symptoms began to appear, I was put in crutches because the pain was too bad to walk. Eventually, I ended up in a wheelchair and my disorder has spread to all four of my limbs," the CLU sophomore shared, "I am in remission, but unable to participate in activities that have high impact on my feet."
RSD is what made Guerriero try water polo in high school and now she cannot imagine her life without it. Though she had never competed in swimming or water polo competitively, she welcomed the opportunity with open arms.
"I went into high school completely out of my element but excited for the future," she went on, "Little did I know, I would grow to love water polo more than I thought possible. It is a blessing that I am even able to walk again let alone play a sport competitively in college and I am beyond grateful that I have had these opportunities and the support from those around me."
Never knowing what tomorrow will bring, every time she dives into the pool, the Cal Lutheran attacker for the Regals is reminded of how exciting it is to have a sport she is able to participate in.
"Each day I'm able to be there [in the pool] is so valuable to me after knowing what being disabled feels like," said Guerriero. "Division III athletics has given me the opportunity to continue being active even with my limitations."
Being a Division III student-athlete has helped Guerriero balance her school work and has given her the extra push needed to stay focused on her future.
"I chose Cal Lutheran because I was in search of the perfect balance between school and sports and I believe that Division III accomplishes this," she went on, "This balance helps me to be my best self. During the season I don't have spare time to waste, so it keeps me even more focused on school and my future."
When Guerriero is not practicing water polo or completing her school work, she is also an active member of the Fellowship of Christian Athletes club (FCA). She said that this group has helped her be more motivated in the pool as well as with her faith. She enjoys the comradery of the club as well as the support that each member has for one another.
"To share something as intimate as faith with the other athletes at your school who know your same struggles is something I cannot value enough," said Guerriero.
Being a student-athlete has challenged the Agoura Hills, Calif. native to manage her time and stress in healthy ways and provides a sense of pride.
"You have a duty to your school and teammates to be doing your best on and off the competition field," she expressed, "As a part of a team, I have learned to be supportive of my teammates and have more school pride knowing that I have put so much time and effort into it."
Guerriero is happy to have found a school where she can focus on her academics as well as her love for water polo. She is grateful for her experiences and her Cal Lutheran family is excited to see what the next two years will hold for her water polo career.
Website: Division III Week
CLU Twitter: https://twitter.com/clusports
CLU Facebook: https://www.facebook.com/clusports
CLU Instagram: http://instagram.com/clusports#
Hashtags: #ownthethrone, #clusports, #gokingsmen #goregals, #purplepit #whyD3 #NCAAD3 #D3week