Regals Fall Short in OT Thriller
Pomona-Pitzer edges CLU 6-5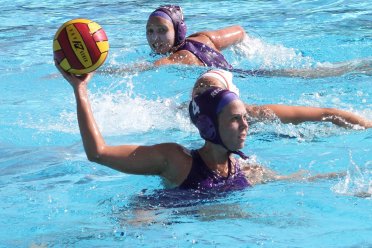 THOUSAND OAKS, Calif. – For the second straight week, the Cal Lutheran women's water polo team came up just short in overtime against a Southern California Intercollegiate Athletic Conference (SCIAC) opponent. On Wednesday afternoon at the Samuelson Aquatics Center, Pomona-Pitzer edged the Regals 6-5, converting two goals in the final overtime period to steal the win.
The Sagehens jumped out to a quick 2-1 lead after the first quarter, but the Violet and Gold would capitalize on a 6-on-5 power play, with a goal from Maddie Campbell, right before the end of the half to tie the game at 2-2.
Pomona-Pitzer opened the scoring in the second half, but CLU was able to respond at every turn, as Christin Hirn scored her second goal of the game to tie the score at 3-3.
CLU was the beneficiaries of another power play and this time it was KC Brendel with the goal as the Regals executed perfectly with crisp ball movement.
Entering the fourth quarter with a 4-3 lead, the Regals allowed a deep shot from the Sagehens to tie the game with 5:34 remaining. Down the stretch, goalkeeper Bailey Meyer came through with a handful of key plays to thwart any offensive threats from Pomona-Pitzer.
In the first overtime period, Nicole Roed and Logan Young nearly scored go-ahead goals with floaters to the backside of the cage but just missed.
In the second overtime, the Sagehens struck first with a powerful shot to the top right corner of the net for a 5-4 lead.
With the Regals backs against the wall, Kristi McGee converted an incredible shot from well beyond the five-meter marker to tie the game with 49 seconds remaining. On the next possession, however, the Sagehens scored a quick goal for the game-winner.
Hirn led CLU with two goals while Campbell, Brendel and McGee added one apiece. Defensively, McGee, Megan Seeman and Victoria Rose Meek finished with two steals each. Meek also led the way with five drawn ejections. Meyer finished with 12 saves.
Cal Lutheran (12-10, 3-2 SCIAC) continues conference play on the road at Chapman this Saturday, Apr. 8 at 11:00 a.m.

Box Score: PP 6, CLU 5 (OT)
CLU Instagram: http://instagram.com/clusports#
W Water Polo Instagram: http://instagram.com/regals_water_polo/
CLU Twitter: https://twitter.com/clusports
W Water Polo Twitter: https://twitter.com/CLUwWaterPolo
CLU Facebook: https://www.facebook.com/clusports
Hashtags: #clusports #ownthethrone #goregals