Regals Go 3-2 at Connecticut College Tournament
CLU wins trio on East Coast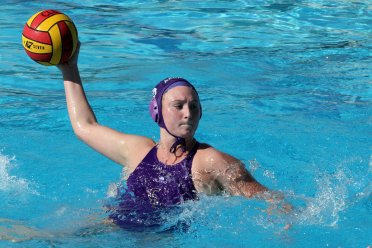 THOUSAND OAKS, Calif. – A cross-country, red eye flight was followed by a day touring New York City before the Cal Lutheran women's water polo team dove in for five games at the Connecticut College Tournament where they Regals posted a 3-2 record.
IONA def. CLU 12-10
The first game of the tournament was a close one as the Violet and Gold nearly knocked off Division I Iona. Nikki Roed scored three times with Kristi McGee and Megan Seeman added two apiece. Seeman and Maddie Campbell each dished out two assists and Seeman also drew a team-leading three ejections. Defensively, Logan Young tallied a trio of steals and two field blocks with McGee adding another field block for CLU. Bailey Meyer totaled eight saves in the loss.
CLU def. UTICA 11-2
Game two produced the first win of the weekend for Cal Lutheran. Victoria Rose Meek exploded for six goals on seven attempts, adding a drawn ejection, a steal and a field block. Roed and KC Brendel also had multi-goal games, scoring twice apiece. Young and Nicole Guerriero both handed out two assists and Sam Wulfestieg earned three drawn ejections for the Regals. Young also racked up three more steals while both Brendel and Erin Cunefare finished with two. Meyer hit double figures for saves with 10.
IONA def. CLU 9-8
A rematch of game one went the same way by the slimmest of margins. CLU spread out the scoring with five players finding the back of the net. Roed, Wulfestieg and Christin Hirn all scored twice with Cunefare and Meek adding the final goals. Seeman served up two of the four assists and Campbell and Meet both drew a pair of ejections. McGee was a defensive menace with six steals, Hirn had two and Young added another field block. Meyer tallied 16 saves as the goalkeeper.
CLU def. CC 12-2
On day two, CLU started hot, taking down the host school in commanding fashion. Seven Regals scored, paced by hat-tricks from McGee and Meek and two goals from Seeman. Mackenzie Thomas contributed with three of the seven assists and four different players drew an ejection in the game. Defensively, Meyer made nine saves and Cal Lutheran stole the ball 15 times with four by MeGee leading the pack and three from Hirn.
CLU def. CC 13-1
The final game of the weekend ended on a winning note with the biggest offensive output of the tournament. Wulfestieg led the way with four goals and three steals Meek notched another hat-trick with three goals of her own and a team-high five steals. Campbell and Cunefare chipped in a pair of goals apiece and Thomas handed out two more assists to match Hirn for the team-lead. Meek also managed to draw two ejections. At the defensive end, Cal Lutheran teamed up for an incredible eight field blocks with two from each Brendel, Campbell and Young. Meyer made four saves and Cunefare traded her field cap for a goalkeeper one, recording three saves.
Cal Lutheran (7-8) and Connecticut College will converge again this week as CLU hosts its second Mini Tournament of the spring with CC and Macalester (Minn.). The two neutral site teams play at 10:30 a.m. with CLU facing Macalester and CC at 1:30 p.m. and 4:00 p.m., respectively, at the Samuelson Aquatics Center.
CLU Instagram: http://instagram.com/clusports#
W Water Polo Instagram: http://instagram.com/regals_water_polo/
CLU Twitter: https://twitter.com/clusports
W Water Polo Twitter: https://twitter.com/CLUwWaterPolo
CLU Facebook: https://www.facebook.com/clusports
Hashtags: #clusports #ownthethrone #goregals