Regals Return to Action
CLU falls to Division I LMU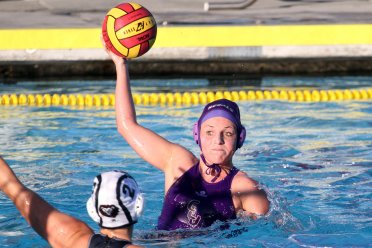 THOUSAND OAKS, Calif. – After rain forced a postponement between the Cal Lutheran and Loyola Marymount women's water polo teams two weeks ago, the contest was rescheduled for today at the Samuelson Aquatics Center where the Regals played well in a tough contest against the Lions, falling 13-5.
LMU outscored CLU 7-0 in the first frame and pushed its lead to 8-0 before Erin Cunefare found the back of the net to put the Violet and Gold on the board. At halftime Cal Lutheran trailed 10-1.
After the break, a focused, motivated Regals squad returned to the pool where the teams exchanged goals in the third behind a score from Mardell Ramirez in her return to the polo pool after the swimming regular season ended and before her trip to the NCAA Division III National Championships in a couple of weeks.
In the final quarter, CLU outscored LMU 3-2. Both Nicole Guerriero and Sam Wulfesteig scored in the first minute of the frame and Ramirez added a second goal to her tally with 1:43 to play in regulation.
Victoria Rose Meek posted an incredible seven drawn ejections and Ramirez added two.
Defensively, Logan Young continued her tear, tallying two field blocks and coming away with one of the eight steals while Ramirez led the way with three takeaways. In front of the CLU cage, Bailey Meyer notched seven saves.
Cal Lutheran (4-5) will continue preseason competition as the Violet and Gold host Mercyhurst (Pa.) on Thursday, March 9 before heading to the East Coast for the weekend.
Box Score: LMU 13, CLU 5
Tournament Central: 2017 Tina Finali Invitational
CLU Instagram: http://instagram.com/clusports#
W Water Polo Instagram: http://instagram.com/regals_water_polo/
CLU Twitter: https://twitter.com/clusports
W Water Polo Twitter: https://twitter.com/CLUwWaterPolo
CLU Facebook: https://www.facebook.com/clusports
Hashtags: #clusports #ownthethrone #goregals