Meyer Earns SCIAC AOW Honors
Sophomore goalkeeper sets CLU single game record for saves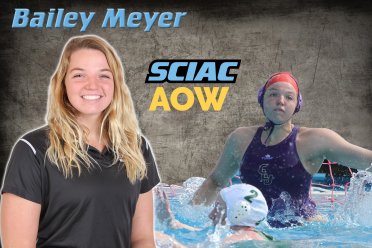 PASADENA, Calif. – Announced on Monday afternoon by the Southern California Intercollegiate Athletic Conference (SCIAC), Bailey Meyer of the Cal Lutheran women's water polo team was named Athlete of the Week based on her performance during the week of Feb. 20-26.
The sophomore goalkeeper set a new single-game record with 18 saves against Division I St. Francis University at the Tina Finali Invitational and racked up 69 total saves to help the Regals to a 3-2 showing over the weekend. In the opening game of the tournament, Meyer recorded 11 saves and a steal against Division II CSU East Bay and on Saturday had games of 16 saves and 10 saves against Division I schools Siena and CSU Bakersfield, respectively. Prior to setting the record with 18 saves on Sunday, Meyer totaled 14 saves in a game against another Division I program St. Francis College.
In the winter, Haley Hodgson (Jan. 16-22 and Jan. 2-8) from the Regals basketball team was a two-time selection while Kyle Ferreira (Jan. 9-15) was a recent selection from the Cal Lutheran men's basketball team. Hodgson's teammate Sofia Cruz (Dec. 12-18) and Kingsmen basketball player Austin Cole (Dec. 12-18) were also honored along with Regals basketball player Janelle Porter (Nov. 14-20) and Kingsmen swimmer Jonah Hobbs (Nov. 14-20). In the fall, Hope Stewart (Oct. 17-23 and Sept. 5-11) and Ryley Settles (Sept. 26 – Oct. 3 and Sept. 5-11) were two time-honorees for the Regals volleyball and soccer teams, respectively. For the Kingsmen, football players Aaron Lacombe (Oct. 10-16) and Adam Friederichsen (Sept. 26 – Oct. 3) have been honored as well as water polo player Chris Gardhouse (Sept. 12-18).
Cal Lutheran (4-4) returns to the pool this Friday, Mar. 3 against Loyola Marymount at 4:00 p.m. at the Samuelson Aquatics Center.

Release: Women's Water Polo Athlete of the Week
CLU Twitter: https://twitter.com/clusports
CLU Facebook: https://www.facebook.com/clusports
CLU Instagram: http://instagram.com/clusports