Regals Split on Day Two of Tina Finali Women's Water Polo Invitational
CLU opens with win, falls to CSU Bakersfield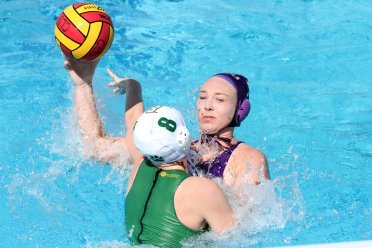 THOUSAND OAKS, Calif. – On a chilly, yet mostly sunny day at the Samuelson Aquatics Center, the Cal Lutheran women's water polo team earned a split in the pool on Day Two of the Tina Finali Invitational as the Regals earned a 7-5 victory over Siena in the morning before falling to Division I CSU Bakersfield, 11-3, in the afternoon.
Cal Lutheran took a 2-1 lead after the first eight minutes behind goals from Sam Wulfestieg and Megan Seeman as the Regals played stout defense all-around. In the second stanza, Kristi McGee made it 3-1, Nikki Roed added a fourth score as CLU took a 4-1 advantage at the break.
Out of the intermission Siena scored a quick goal, but Roed pushed the lead back to three on a five-meter shot late in the period. On the ensuing Violet and Gold possession Victoria Rose Meek found the back of the net for a 6-2 gap that held through the end of the third. After Siena pulled within two, Maddie Campbell notched a goal to push the scoreboard to 7-4 with 2:15 remaining. Although Siena would add one more, the victory belonged to Cal Lutheran.
For the Regals, Bailey Meyer had a standout day with 16 saves and three steals to lead the defensive unit. Both Seeman and Logan Young recorded field blocks and the other two takeaways came from Guerriero and McGee.
Offensively, six players scored the seven goals with Roed adding two. Young dished out two of the six assists in the game and Guerriero earned three drawn ejections with Seeman adding a pair.
In the second game of the day, CLU faced a strong CSU Bakersfield team that went 4-0 on the weekend by scoring 64 goals. The Regals held the Roadrunners to their lowest offensive output with 11 goals this afternoon. In the opening period, McGee scored the lone goal of the first half, her first of two in the game. In the final frame, McGee found the back of the net again and Young added the only other score of the night cap for CLU.
Meyer finished with 10 more saves while nabbing one steal. Roed grabbed two steals and both she and Christin Hirn recorded a field block. Meek managed to draw a team-high three ejections in a game that both Guerriero and Young had two.
Cal Lutheran (2-4) closes out the 10th edition of the Cal Lutheran Tournament on Sunday with a pair of games. The first pits CLU against St. Francis College at 9:15 a.m. with the second against St. Francis University to wrap up the weekend of competition at 4:15 p.m.
Box Score: CLU 7, Siena 5
Box Score: CSUB 11, CLU 3
Tournament Central: 2017 Tina Finali Invitational
CLU Instagram: http://instagram.com/clusports#
W Water Polo Instagram: http://instagram.com/regals_water_polo/
CLU Twitter: https://twitter.com/clusports
W Water Polo Twitter: https://twitter.com/CLUwWaterPolo
CLU Facebook: https://www.facebook.com/clusports
Hashtags: #clusports #ownthethrone #goregals