Regals Open Tina Finali Invitational
First day of annual tournament complete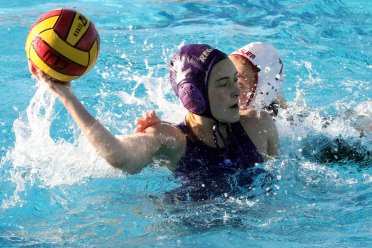 THOUSAND OAKS, Calif. – Every spring for the last 10 years some of the top women's water polo teams from across the country have converged at the Samuelson Aquatics Center for a tournament, renamed three years ago as the Tina Finali Invitational. Today, the 19-game, 10-team, three-day event got going with Cal Lutheran rounding out a day of six games with a hard-fought 9-7 loss to CSU East Bay.
Eight hours after competition began on day one, the Regals finally got in the water to face a tough Division I team as the sun went down. The teams battled in what turned out to be a very defensive and evenly matched contest.
CSUEB took a quick 1-0 lead, but the Regals rallied back with a pair from Nicole Guerriero and Kristi McGee, in a man-up situation, to close out the quarter ahead 2-1.
In the second, the Cal Lutheran defense forced a shot clock violation on the first possession, but the Pioneers were able to find the back of the net twice to regain an advantage. With just over five minutes to go in the half Nikki Roed knotted things up at three apiece and with 13 ticks to play in the half KC Brendel did the same, sending the teams into the break even at four goals apiece.
After exchanging goals in the third, Roed recorded a field block with just under a minute to go, sparking enthusiasm on the CLU bench, but a quick timeout for the visiting squad allowed a play to be drawn up and after good execution on the opposite end of the pool, CLU saw itself down 6-5.
During the final eight minutes, Erin Cunefare got the Violet and Gold even at 6-6 and a big stop from goalkeeper Bailey Meyer put the ball back in the hands of the Regals. Megan Seeman promptly found the back of the net for a 7-6 advantage and another big block from Meyer followed. Unfortunately for the home squad, that was all the scoring of the night for the host school while CSUEB was able to post another pair and steal the victory.
Seven different players scored in the game and McGee and Young each handed out an assist. Roed drew a team-leading four ejections while Seeman earned two. Defensively, Logan Young was all over the pool, notching a trio of field blocks and Roed recorded a pair. Overall, CLU came away with five steals from as many different players including Brendel, McGee, Meyer, Christin Hirn and Sam Wulfestieg. In front of the cage, Meyer turned away 11 CSUEB shots.
Cal Lutheran (1-3) will be back in action twice tomorrow with games at 10:30 a.m. against Siena and at 2:30 p.m. when the Violet and Gold host CSU Bakersfield.
Box Score: CSUEB 9, CLU 7
Tournament Central: 2017 Tina Finali Invitational
CLU Instagram: http://instagram.com/clusports#
W Water Polo Instagram: http://instagram.com/regals_water_polo/
CLU Twitter: https://twitter.com/clusports
W Water Polo Twitter: https://twitter.com/CLUwWaterPolo
CLU Facebook: https://www.facebook.com/clusports
Hashtags: #clusports #ownthethrone #goregals