Guidetti Punches Ticket to Division III Track & Field National Championships
CLU freshman reaches final meet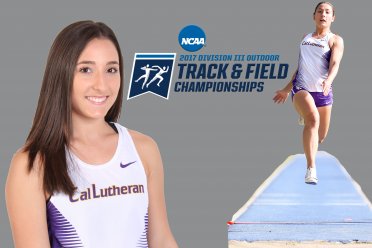 INDIANAPOLIS, Ind. – The 2017 NCAA Division III Women's Track & Field National Championship field is set and freshman Kendall Guidetti has punched a ticket to represent Cal Lutheran in her first national meet.
The top 22 competitors from across the country in each event will converge at the SPIRE Institute in Geneva, Ohio from May 25-27 for the three-day meet hosted by Mount Union and the Greater Cleveland Sports Commission.
The Oak Park, Calif. native earned an invitation in the Long Jump with a career-best performance of 5.75m at the 2017 Southern California Intercollegiate Athletic Conference (SCIAC) Championships at the end of April. With that performance, she not only won a league title in the event, but also set a new CLU record. The mark seeds the first-year student-athlete as 18th. The front-runner in the event, which will take place on Thursday at 2:15 p.m. (PST), is junior Camille Wutz from SUNY Geneseo with a best leap of 6.13m. Guidetti is one of just two freshmen in the field, being joined by Elyse Acompanado from Loras (Iowa).
Overall, the SCIAC will be represented with 24 individual entries and one relay from seven of the nine league schools.
Release: 2017 NCAA Division III Qualifiers
Tournament Central: NCAA DIII Outdoor Track & Field Championships
CLU Instagram: http://instagram.com/clusports#
Track & Field Instagram: https://www.instagram.com/clu_track_field/
CLU Twitter: https://twitter.com/clusports
Track & Field Twitter: https://twitter.com/CLUTrackField
CLU Facebook: https://www.facebook.com/clusports
Hashtags: #clusports #ownthethrone #goregals