Regals Run, Jump, Throw in Final Qualifier Meet at Redlands
CLU sends six to last meet of regular season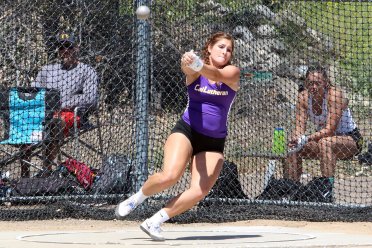 REDLANDS, Calif. – The final qualifier of the 2017 Cal Lutheran women's track and field season took place today at Redlands where six Regals competed in a competitive field.
In the field this afternoon, Alexa Barnes competed in the Hammer Throw where she improved on her eighth place all-time mark for the Regals with a career-best throw of 42.89m, more than a meter further than her previous best.
Kelsey Rouse, the only student-athlete from Cal Lutheran track and field to compete last week, set a new career-best mark in the High Jump as she cleared 1.59m, which also inched the sophomore closer to sixth place on the all-time list at CLU. She recorded a time of 16.44 in the 100m Hurdles and leapt 5.09m in the Long Jump.
Freshman Kendall Guidetti looked to improve on her season-best Long Jump mark in a quest for her first NCAA Division III National Track & Field Championships qualification, but fell short with a best mark of 5.60m today. She was, however, the top Division III finisher in the event. Additionally, Guidetti (12.59) and Emma King (12.88) both ran the 100m dash while King (26.61) and Sarah Dearborn (26.95) each stepped onto the track for the 200m. Dearborn also lined up for the 400m, running 1:00.39.
The only Triple Jumper for the Violet and Gold today was Morgan Snyder who jumped 10.78m.
Over the weekend, the NCAA will announce the 2017 Division III Track & Field National Championship qualifiers.
Results: Final Qualifier
CLU Instagram: http://instagram.com/clusports#
Track & Field Instagram: https://www.instagram.com/clu_track_field/
CLU Twitter: https://twitter.com/clusports
Track & Field Twitter: https://twitter.com/CLUTrackField
CLU Facebook: https://www.facebook.com/clusports
Hashtags: #clusports #ownthethrone #goregals