Rouse Competes in Heptathlon at Westmont
Sophomore places eighth overall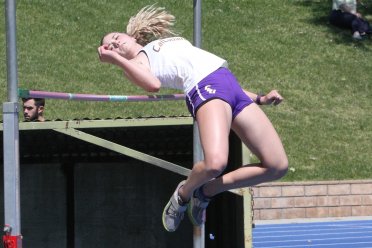 SANTA BARBARA, Calif. – Competing in the Heptathlon over the weekend at the Harry Marra Combined Events Qualifier, Kelsey Rouse of the Cal Lutheran women's track and field team finished with a total score of 3,745 to place eighth overall.
Her score ranks fifth all-time in CLU history for the Heptathlon and is the highest total since Casey Anderson notched 4,387 in 2008.
Just a sophomore, Rouse has displayed her versatility all season long and showcased her abilities at Westmont Track on Friday and Saturday.
In the first event of the Heptathlon, Rouse competed in the 100m Hurdles and ran 16.56 to earn 647 points after placing 13th. Her best finish of the day came in the High Jump, placing fifth out of 16, after clearing 1.54m to earn 666 points.
After a tune-up in the Shot Put at last weekend's Occidental Invitational, Rouse reached a mark of 7.35m in the event to earn 357 points.
Rounding out the events Rouse competed in were the 200m (27.65), Long Jump (4.84m), Javelin (24.28m) and the 800m (2:43.76).
Cal Lutheran returns to action for the Redlands Final Qualifier meet this Wednesday and Thursday, May 17-18 at Ashel Cunningham Track.
Results: Harry Marra Results
CLU Instagram: http://instagram.com/clusports#
Track & Field Instagram: https://www.instagram.com/clu_track_field/
CLU Twitter: https://twitter.com/clusports
Track & Field Twitter: https://twitter.com/CLUTrackField
CLU Facebook: https://www.facebook.com/clusports