Regals Participate at Oxy Invite
CLU to compete at Harry Marra Qualifier this weekend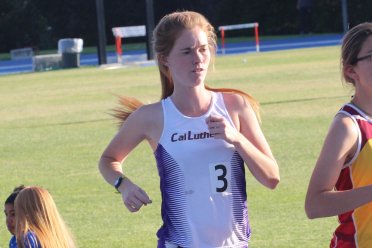 LOS ANGELES, Calif. – On Saturday afternoon, a handful of Regals from the Cal Lutheran women's track and field team competed in events at the Occidental Invitational on Bill Henry Track.
Coming off an individual SCIAC title in the Long Jump, Kendall Guidetti led the Violet and Gold in the event with a leap of 5.24m while Kelsey Rouse jumped 4.80m.
The All-SCIAC High Jumper Rouse tried her hand at Shot Put on Saturday with a mark of 7.43m while clearing the bar at 1.55m in the High Jump.
On the track, Erin MacNeil paced a trio of Regals in the 1,500m with a time of 4:56.80. Rachel Ereso and Katie Young also competed in the event with times of 5:03.62 and 5:22.33, respectively. In the 5,000m, Sarah Parsons ran to a time of 19:37.99.
Rounding out the competitors for CLU were Alexa Barnes who threw 41.31m in the Hammer Throw and Morgan Snyder who leapt 10.76m in the Triple Jump.
Cal Lutheran is back on the track this weekend, May 12-13 at the Harry Marra Combined Events Qualifier hosted by Westmont College.
Results: Occidental Invitational
CLU Instagram: http://instagram.com/clusports#
Track & Field Instagram: https://www.instagram.com/clu_track_field/
CLU Twitter: https://twitter.com/clusports
Track & Field Twitter: https://twitter.com/CLUTrackField
CLU Facebook: https://www.facebook.com/clusports