Guidetti Garners 2017 SCIAC Track & Field Newcomer of the Year
All-SCIAC teams announced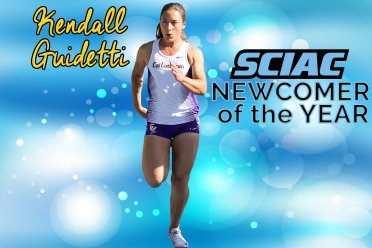 ALISO VIEJO, Calif. – Announced today by the Southern California Intercollegiate Athletic Conference (SCIAC), Kendall Guidetti was named the Newcomer of the Year in 2017 as she and Kelsey Rouse earned individual All-SCIAC honors and the 4x100m Relay Team garnered recognition as well.
A freshman from Oak Park, Calif., Guidetti wasted no time making a name for herself within the league. At the SCIAC Championships, she was crowned the 2017 Long Jump champion with a leap of 5.75m, which set a new Cal Lutheran record and ranks her among the Top-10 nationally in 2017. She also anchored the all-freshman, third place 4x100m Relay team of Sarah Dearborn, Emma King and Ana Cordoba. The quartet joined forced to run a 49.61 and place third at the S.
Finally, sophomore multi-event competitor, Rouse, tied for third in the High Jump after clearing 1.52m, a touch off her personal best jump of 1.58m that she achieved earlier this season. The higher mark moved the Moorpark, Calif. native into eighth all-time at CLU.
Earlier this spring, Guidetti climbed into sixth all-time at CLU in the 100m by clocking a 12.45 while teammate Cordoba etched her name in the record books in the 200m with a time of 25.95.
The 2017 SCIAC Field Athlete of the Year is Vaiva Palunas, a senior from Claremont-Mudd-Scripps while the Track Athlete of the Year is Pomona-Pitzer senior Maya Weigel. The Jennifer Stary Character Award went to PP senior Kaile Sauro and Claremont-Mudd-Scripps was honored with the Coaching Staff of the Year.
Release: All-SCIAC
CLU Instagram: http://instagram.com/clusports#
Track & Field Instagram: https://www.instagram.com/clu_track_field/
CLU Twitter: https://twitter.com/clusports
Track & Field Twitter: https://twitter.com/CLUTrackField
CLU Facebook: https://www.facebook.com/clusports
Hashtags: #clusports #ownthethrone #goregals