Regals Finish Sixth at SCIAC Championships
4x100 team earns All-SCIAC honors on final day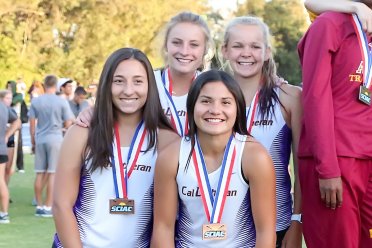 CLAREMONT, Calif. – On the final day of the 2017 Southern California Intercollegiate Athletic Conference (SCIAC) Track and Field Championships at Pomona-Pitzer, the Cal Lutheran women's track and field team concluded the meet with a sixth place finish on Saturday afternoon at Strehle Track.
The highlight of the afternoon came in the 4x100m Relay, as the Regals freshmen quartet of Kendall Guidetti, Sarah Dearborn, Emma King and Ana Cordoba raced to an All-SCIAC third place finish with a time of 49.61 for the lone podium finish of the day.
Guidetti continued to impress in her first championship meet, scoring in the 100m with a sixth place finish in the finals after running a time of 12.74.
After qualifying for the 200m final in seventh yesterday, King crossed the line in the same spot in the finals with a time of 26.59. The same story was true for Dearborn who placed fifth in the 400m with a time of 1:00.03.
Also scoring for the Violet and Gold on the track was Erin MacNeil who ran to a fifth place finish in the 1500m (5:00.53).
Rounding out the CLU scorers on Saturday was Alexa Barnes who finished in seventh in the Shot Put after tossing a distance of 10.75m on her fourth attempt.
Claremont-Mudd-Scripps ran away with the team championship with 222 points while Redlands placed second with 135 points. Finishing third was Occidental at 134.50.
Cal Lutheran continues its season with a meet next Saturday, May 6 at the Occidental Invitational.
Results: SCIAC Championships
CLU Instagram: http://instagram.com/clusports#
Track & Field Instagram: https://www.instagram.com/clu_track_field/
CLU Twitter: https://twitter.com/clusports
Track & Field Twitter: https://twitter.com/CLUTrackField
CLU Facebook: https://www.facebook.com/clusports