Guidetti Wins Long Jump on Opening Day of SCIAC Championships
Rouse and Guidetti earn All-SCIAC on day one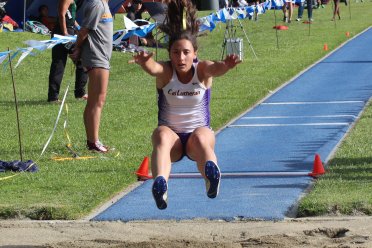 CLAREMONT, Calif. – Freshman Kendall Guidetti captured first place in the Long Jump and Kelsey Rouse earned All-SCIAC honors with a third place finish in the High Jump to highlight the first day of the 2017 Southern California Intercollegiate Athletic Conference (SCIAC) Championships for the Cal Lutheran women's track and field team at Strehle Track on Friday afternoon.
Guidetti began the day by qualifying for the 100m final, with a career-best time of 12.45, which ranks sixth best in CLU history. From there, the versatile freshman made her way to the jumping pit where she leaped to a school record distance of 5.75m on her second attempt to claim first place in the event. Guidetti surpasses Lauren Rohach ('14), who previously held the top spot with a mark of 5.72m.
Rouse, meanwhile, also earned All-SCIAC honors after tying for third place in the High Jump for the second straight season. The sophomore had a busy day on the track competing in three events, but managed to clear a height of 1.52m for the podium finish.
Alexa Barnes came close to earning All-SCIAC honors of her own with a fourth place finish in the Discus finals while adding a fifth place finish in the Hammer Throw. The sophomore from Olympia, Wash. threw for a distance of 35.71m in the Discus and went 41.21m in the Hammer.
Kate Cochran also earned points for the Regals with a sixth place finish in the Hammer (40.24m) and an eighth place finish in the Discus (32.82m).
In the 10,000m final, Sarah Parsons crossed the finish line in seventh place with a time of 42:43.07 to score for the Violet and Gold.
In the Pole Vault final, the freshman duo of Kayla Cross and Megan Pollack finished fifth and sixth after clearing 3.07m and 2.92m, respectively.
Looking towards tomorrow, Emma King qualified for the 200m final in lane seven with a time of 26.08 while Sarah Dearborn clinched a spot in the 400m final after running the fifth fastest time at 1:0.77.
Erin MacNeil qualified for the 1500m final after running the fastest time in heat two, and fourth fastest time in the event, at 5:00.41. MacNeil also led the Regals in the 3,000m Steeplechase final with a ninth place finish in a time of 12:14.11.
After one day in the books, CLU sits in fourth place by just half a point with a total of 37.50 points. Claremont-Mudd-Scripps is in first with 97, Occidental is in second place with 40.50 and Redlands is in third at 38.
Cal Lutheran will conclude the SCIAC Championships tomorrow, Apr. 29 at Strehle Track, with field events beginning at 2:00 p.m. and track finals starting at 3:30 p.m.
Results: SCIAC Championships Day One
CLU Instagram: http://instagram.com/clusports#
Track & Field Instagram: https://www.instagram.com/clu_track_field/
CLU Twitter: https://twitter.com/clusports
Track & Field Twitter: https://twitter.com/CLUTrackField
CLU Facebook: https://www.facebook.com/clusports