Regals Host SCIAC No. 3 against Tough Competition
Dearborn wins 400m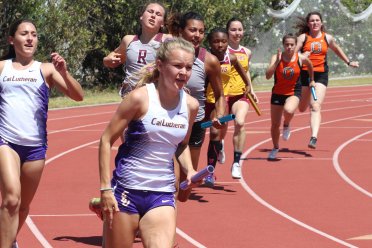 LOS ANGELES, Calif. – The Cal Lutheran women's track and field team competed against the top three teams in the Southern California Intercollegiate Athletic Conference (SCIAC) standings at the SCIAC Multi-Dual No. 3 meet hosted by CLU on Saturday at Occidental. All tied in first-place with five dual-meet points apiece entering Saturday's meet, Claremont-Mudd-Scripps, Redlands and Occidental defeated the fourth-place Regals by scores of 123-39, 112.50-49.50 and 108-55, respectively.
Sarah Dearborn provided the lone win of the meet for the Violet and Gold with a first place finish in the 400m in just under a minute, 59.89.
Alexa Barnes also had a strong performance with two personal bests, coming in the Shot Put (10.33m) and the Discus (37.22) while also leading the way for CLU in the Hammer with a mark of 41.19m. Barnes placed sixth overall in the Shot Put, fourth in the Hammer and second overall in the Discus. Morgan Snyder was the top Regal in the Javelin with a throw of 29.58 to place third, and also led CLU in the Triple Jump with a leap of 10.30m.
In the Long Jump, Kendall Guidetti provided another highlight for the Regals with a second place finish with a distance of 5.24m. Kelsey Rouse cleared 1.55m in the High Jump while the duo of Megan Pollack and Kayla Cross cleared 2.90m in the Pole Vault.
On the track, Ana Cordoba continued to dominate the sprints with a fifth overall finish in the 100m (12.80) and a fourth place finish in the 200m (25.95). Emma King finished right behind Cordoba in the 100m with a career-best time of 12.83.
Kylie Rodriguez also set a career-best with a time of 2:34.14 in the 800m while Sarah Parsons paced the way in the 5000m (20:15.85) and Erin MacNeil ran a time of 5:04.33 in the 1500m.
The 3000m Steeplechase featured a pair of Regals making their way into the CLU all-time record books. Katie Young shaved off over 10 seconds of her best time, finishing in 12:34.31 to rank fifth-best in CLU history while MacNeil ran it in 12:40.27 to rank seventh.
In the relays, the quartet of Guidetti, Dearborn, King and Cordoba placed fourth in the 4x100m (48.97) while Rouse, Dearborn, King and Cordoboa took third in the 4x400m (4:05.72).
Cal Lutheran (4-4 SCIAC) will take next weekend off and prepare for the SCIAC Championships which will be held at Pomona-Pitzer on Friday and Saturday, Apr. 28-29.
Results: SCIAC No. 3
CLU Instagram: http://instagram.com/clusports#
Track & Field Instagram: https://www.instagram.com/clu_track_field/
CLU Twitter: https://twitter.com/clusports
Track & Field Twitter: https://twitter.com/CLUTrackField
CLU Facebook: https://www.facebook.com/clusports