Regals Take Part in Pomona-Pitzer Invitational
Freshmen lead the way for CLU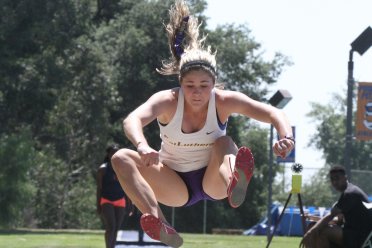 CLAREMONT, Calif. – The Cal Lutheran women's track and field team took a break from Southern California Intercollegiate Athletic Conference (SCIAC) action on Saturday to compete in the 31st Annual Pomona-Pitzer Track and Field Invitational at Strehle Track.
One week after winning the 4x100m Relay at the SCIAC No. 2 meet, the freshman quartet of Kendall Guidetti, Sarah Dearborn, Emma King and Ana Cordoba finished as the fastest Division III team in the field, and seventh overall, with a time of 49.19.
Guidetti went on to set a new personal best in the Long Jump with a leap of 5.58m while Cordoba finished as the fastest Regal in the 100m (12.72) and Dearborn led the way for CLU in the 400m (59.66).
Rebecca Kozlowski paced the Violet and Gold in the 100m Hurdles (17.30) and 400m Hurdles (1:10.28). In the 800m, Brooke Stanley finished with the top time for CLU in 2:32.04 and Erin MacNeil rounded out the track events with a top time of 5:07.71 in the 1500m.
Morgan Snyder displayed her versatility once again with top marks for the Regals in the Shot Put (9.99m) and Javelin (29.73m) while setting the third best mark in CLU history with an 11.02m leap in the Triple Jump.
Alexa Barnes led the way once again in the Discus (36.59m) and Hammer (41.37m) while Kelsey Rouse finished as the top Regal in the High Jump (1.55m).
Rounding out the top performances for CLU wereMegan Pollack and Kayla Cross who both cleared 2.95m in the Pole Vault.
Cal Lutheran plays host to the SCIAC No. 3 Multi-Dual meet at Occidental next Saturday, Apr. 15 starting at 10:00 a.m.
Results: Pomona-Pitzer Invitational
CLU Instagram: http://instagram.com/clusports#
Track & Field Instagram: https://www.instagram.com/clu_track_field/
CLU Twitter: https://twitter.com/clusports
Track & Field Twitter: https://twitter.com/CLUTrackField
CLU Facebook: https://www.facebook.com/clusports