Regals Compete at Oxy Distance Carnival
Cross moves up to sixth all-time in CLU Pole Vault history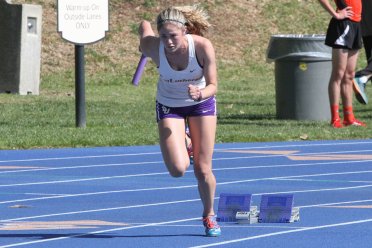 LOS ANGELES, Calif. – The Cal Lutheran women's track and field team competed at the Occidental Distance Carnival Spring Break Classic all day Friday and turned in a handful of strong performances at the Bill Henry Track inside Jack Kemp Stadium.
Fresh of Southern California Intercollegiate Athletic Conference (SCIAC) Athlete of the Week honors, sophomore thrower Alexa Barnes led the Regals in the Hammer Throw and Discus. The Olympia, Wash. native placed sixth overall in the Discus with a distance of 35.42m while placing seventh in the Hammer with a toss of 39.42m. Morgan Snyder led CLU in the Javelin with a mark of 26.79m.
On the track, the 4x400 Relay team of Kelsey Rouse, Sarah Dearborn, Anna Schlosser and Ana Cordoba clocked a time of 4:04.09 to place second overall for the top finish of the day. Dearborn, Schlosser and Cordoba were joined by Kendall Guidetti for the 4x100 Relay and finished fourth overall with a time of 49.25.
Individually, Cordoba led the Regals in the 100m with a time of 12.71 while Rachel Coleman paced CLU in the 800 in 2:39.07.
Rouse had another strong all-around meet, leading the Regals in the 100m Hurdles (16.88) and High Jump (1.52m) while finishing eighth overall in the Long Jump (4.91m). Guidetti, meanwhile, took second overall in the event with a leap of 5.29m.
For the third straight meet, Kayla Cross improved her Pole Vault mark and after clearing a height of 3.00m vaulted herself into the sixth spot in all-time CLU history.
Other top performances in the meet came from Racheel Ereso in the 1500m (5:10.58), Erin MacNeil in the 5000m (19:11.69), Erin Knight in the 3000m Steeplechase (13:09.93), Sarah Parsons in the 10,000 (41:58.81), and Rebecca Kozlowski in the Triple Jump (9.67m).
Cal Lutheran returns to the Bill Henry Track for the SCIAC Multi-Dual No. 2 meet on Saturday, Apr. 1 and will take on Chapman, Pomona-Pitzer and Whittier.
Results: Oxy Distance Carnival Spring Break Classic
CLU Instagram: http://instagram.com/clusports#
Track & Field Instagram: https://www.instagram.com/clu_track_field/
CLU Twitter: https://twitter.com/clusports
Track & Field Twitter: https://twitter.com/CLUTrackField
CLU Facebook: https://www.facebook.com/clusports