Barnes Brings in SCIAC AOW Honors
Sophomore recognized by conference for first time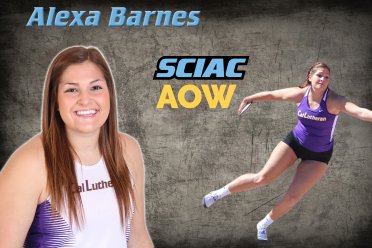 LAGUNA NIGUEL, Calif. – Announced on Monday afternoon by the Southern California Intercollegiate Athletic Conference (SCIAC), Alexa Barnes of the Cal Lutheran women's track and field team was named Athlete of the Week based on her performance at the SCIAC No. 1 Multi-Dual meet on Saturday.
Barnes came away with two event wins at the meet along with a second place finish to lead the Regals to wins against Caltech and La Verne. The Olympia, Wash. native took first place in the Discus with a personal best throw of 36.78m to tie for eighth all-time in CLU history. Barnes also improved on her previous top mark of 41.17 in the Hammer Throw, with a distance of 41.40m for another first place finish. Rounding out her top finishes of the day, Barnes placed second in the Shot Put with a heave of 10.20m.
Barnes joins Bailey Meyer (Feb. 20-26)from the Regals water polo team as the lone recipients in the spring thus far. In the winter, Haley Hodgson (Jan. 16-22 and Jan. 2-8) from the Regals basketball team was a two-time selection while Kyle Ferreira (Jan. 9-15) was a recent selection from the Cal Lutheran men's basketball team. Hodgson's teammate Sofia Cruz (Dec. 12-18) and Kingsmen basketball player Austin Cole (Dec. 12-18) were also honored along with Regals basketball player Janelle Porter (Nov. 14-20) and Kingsmen swimmer Jonah Hobbs (Nov. 14-20). In the fall, Hope Stewart (Oct. 17-23 and Sept. 5-11) and Ryley Settles (Sept. 26 – Oct. 3 and Sept. 5-11) were two time-honorees for the Regals volleyball and soccer teams, respectively. For the Kingsmen, football players Aaron Lacombe (Oct. 10-16) and Adam Friederichsen (Sept. 26 – Oct. 3) have been honored as well as water polo player Chris Gardhouse (Sept. 12-18).
Cal Lutheran (2-0, 2-0 SCIAC) competes in the Oxy Distance Carnival/Spring Break Classic this Friday, Mar. 10 beginning at 11:00 a.m.

Release: SCIAC Athlete of the Week
CLU Twitter: https://twitter.com/clusports
CLU Facebook: https://www.facebook.com/clusports
CLU Instagram: http://instagram.com/clusports#