Regals Set All-Time Marks at Rossi Relays
Seven Regals crack CLU Top-10 lists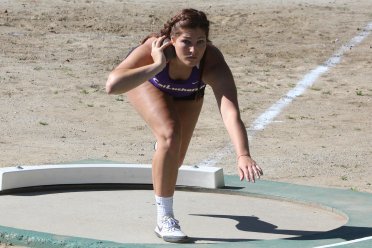 CLAREMONT, Calif. – Competing for the first time in three weeks, the Cal Lutheran women's track and field team returned to action on Saturday at the 20th Annual Rossi Relays hosted by Claremont-Mudd-Scripps at the Burns Track Complex.
The eagerness to compete shined through as seven Regals broke into the CLU record books with exceptional performances.
Leading the way for the second meet in a row was sophomore Kelsey Rouse, who won the High Jump for the second time in as many meets this season. Rouse cleared a height of 1.57m, just off her seventh-best mark in CLU history of 1.58m set earlier this season.
Rouse also came through as the top finisher for the Regals in the 100m Hurdles with a time of 16.92.
The Distance Medley Relay team of Rachel Ereso, Sarah Dearborn, Katie Young and Erin MacNeil finished with a time of 13.31.22 to move into sixth all-time in CLU history in the event.
Also cracking the CLU Top-10 in the Pole Vault was the freshmen duo of Kayla Cross and Megan Pollack, who both cleared a height of 2.74m.
Alexa Barnes also made her way into the record books with a 41.17m toss in the Hammer Throw, to rank eighth all-time in CLU history, and place ninth overall on Saturday. Barnes also led the way in the Shot Put with a distance of 10.02m and Discus with a throw of 35.11m.
Other top performances of the day came from Ana Cordoba (12.65) and Kendal Guidetti (12.81) in the 100m while Guidetti also placed third overall with a leap of 4.94m in the Long Jump.
Rebecca Kozlowski was the top finisher in the 400m Hurdles (1:12.92) for the Regals while Sarah Parsons (11:42.70) and Erin Knight (12:02.36) paced the Violet and Gold in the 3000m. In the Javelin, Morgan Snyder led the way with a throw of 25.22m.
Cal Lutheran will now begin Southern California Intercollegiate Athletic Conference (SCIAC) competition at the SCIAC Multi-Dual No. 1 meet this Saturday, Mar. 4 against La Verne and Caltech at La Verne.
Results: Rossi Relays
CLU Instagram: http://instagram.com/clusports#
Track & Field Instagram: https://www.instagram.com/clu_track_field/
CLU Twitter: https://twitter.com/clusports
Track & Field Twitter: https://twitter.com/CLUTrackField
CLU Facebook: https://www.facebook.com/clusports