Regals Run and Jump at Sunshine Open
Rouse wins high jump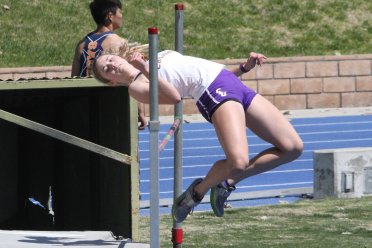 THOUSAND OAKS, Calif. – Competing in only distance events and High Jump on Saturday, the Cal Lutheran women's track and field team began the season with a handful of strong performances at the Westmont Sunshine Open.
The highlight of the day came from sophomore Kelsey Rouse, who tied for first place in the High Jump after clearing a personal best mark of 1.58m. Rouse also competed in the 400m where she clocked a time of 1:06.92 and ran a 10.37 in the 60m Hurdles.
Brooke Stanley led the Regals in the mile, placing seventh overall with a time of 5:50.93. Katie Young was close behind with a time of 5:54.27 while Rachel Ereso (5:57.65), Kylie Rodriguez (6:15.34) and Mariah Mercado (6:22.65) also competed in the event.
In the 3,000m, Erin MacNeil paced the Violet and Gold with a time of 11:09.95 to place fifth while Sarah Parsons logged a time of 11:39.35 and Erin Knight finished in 12:00.13.
Rounding out the Regals in action on Saturday is Anna Schlosser, who cleared a mark of 1.48m to tie for fourth place in the High Jump. Stanley also competed in the event and cleared 1.43m.
Ereso, Mercado and MacNeil all made their CLU track and field debuts in the meet.
Cal Lutheran is back in action on Saturday, Feb. 18 when it competes in the Pomona-Pitzer Collegiate All Comers meet starting at 10:30 a.m.
Results: Westmont Sunshine Open
CLU Instagram: http://instagram.com/clusports#
Track & Field Instagram: https://www.instagram.com/clu_track_field/
CLU Twitter: https://twitter.com/clusports
Track & Field Twitter: https://twitter.com/CLUTrackField
CLU Facebook: https://www.facebook.com/clusports