Young Regals Ready to Compete in 2017
CLU brings in 17 newcomers while returning 12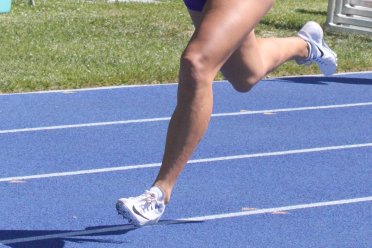 THOUSAND OAKS, Calif. – With more incoming student-athletes than returners, the Cal Lutheran women's track and field team will rely on an infusion of youth, coupled with its experience, to stay competitive after a third place finish in the Southern California Intercollegiate Athletic Conference (SCIAC) standings last season.
The Regals will bring in 17 newcomers while returning 12 for the 2017 spring campaign.
Despite the departure of national champion Allie Hadley and All-American Amanda Hamilton, the Violet and Gold return a handful of All-West Region and All-SCIAC selections from a year ago.
Leading the pack will be junior Carlie Burow, who is a three-time All-SCIAC selection in her two seasons for CLU, and captured her first SCIAC title as a sophomore in the 400m Hurdles. In addition to the win, she set the school record in the event with a time of 1:03.18. The versatile Burow also placed third in the High Jump, clearing 1.52 meters and earned All-West Region honors.

Also returning after hauling in All-West Region accolades last season is junior sprinter Anna Schlosser who helped the Regals 4x100 team to a first place finish at the SCIAC Championships in May. The Hood River, Ore. native is also a threat in the 400m and will make the transition to more jumping events this spring.
Sophomore Kelsey Rouse rounds out the returning All-SCIAC selections after she cleared 1.52 meters in the High Jump and tied with Burow for third place honors. After a standout freshman campaign, Rouse will continue to lead the team in a multitude of events including the Long Jump and 100m Hurdles.
A large contingent of returners will compete in distance events for the Violet and Gold, led by senior Sarah Parsons. The only other senior on the team, Lauren Chrislu, is among the distance group alongside junior Katie Young and sophomores Kyle Rodriguez, Erin Knight and Brooke Stanley, who also competes in High Jump for CLU.
Leading the way in the throwing events will be returners Alexa Barnes and Carson Nicodemus. Barnes, a sophomore from Olympia, Wash., made an immediate impact as a freshman and placed fifth in both the Discuss and Hammer Throw at the SCIAC Championships. Nicodemus, a junior, will bring experience to the group and will be one of the top Regals in Javelin.
Rounding out the returning group is sophomore Rebecca Kozlowski who brings depth to the hurdle events and had a strong showing at the SCIAC Championships last year in both the 100m and 400m Hurdles.
Joining the Regals in 2017 will be a large group comprised of freshmen Kate Cochran (Woodland, Wash.), Rachel Coleman (Modesto, Calif.), Ana Cordoba (Thousand Oaks, Calif.), Kayla Cross (Bakersfield, Calif.), Sarah Dearborn (Moorpark, Calif.), Rachel Ereso (Encinitas, Calif.), Kendall Guidetti (Oak Park, Calif.), Emma King (Gig Harbor, Wash.), Destiny Klepacki (Thousand Oaks, Calif.), Erin MacNeil (Oceanside, Calif.), Claire Meuter (Fort Wayne, Ind.), Megan Pollack (Huntington Beach, Calif.), Morgan Snyder (Woodland Hills, Calif.), Rebecca Souza (Santa Maria, Calif.), Makena Westbrook (Oceanside, Calif.), sophomore Nicole Schedler (Fair Oaks, Calif.) and junior Mariah Mercado (Sherman Oaks, Calif.)
"The talent that we have coming in, not just the numbers, is incredible," said head coach Matt Lea who enters his tenth season at the helm of the Regals. "What they will be able to do instantly as freshman and transfers on not just the SCIAC level but the national level is going to be something to watch out for."
Cal Lutheran opens its season with distance runners and high jumpers competing this Saturday, Feb. 4 in Santa Barbara, Calif. at the Westmont Sunshine Open beginning at 11:00 a.m.
Roster: 2017 Regals
Schedule: 2017 Women's Track & Field
CLU Instagram: http://instagram.com/clusports#
T&F Instagram: https://www.instagram.com/clu_track_field/
CLU Twitter: https://twitter.com/clusports
T&F Twitter: https://twitter.com/CLUTrackField
CLU Facebook: https://www.facebook.com/clusports