Regals Enjoy Sweet Senior Day
CLU tops Occidental in home finale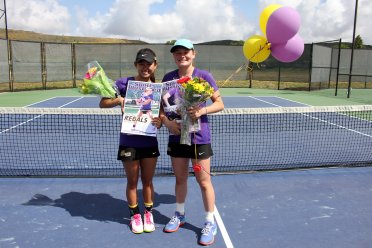 THOUSAND OAKS, Calif. – Playing on the Poulson Tennis Center Courts for the final time in the four-year careers of seniors Shelby Kubota and Emily Werman, the Cal Lutheran women's tennis team worked to an 8-1 Southern California Intercollegiate Athletic Conference (SCIAC) victory over Occidental this morning.
Following a brief ceremony to honor the graduating duo, the Regals got started strong and maintained confidence and an advantage on most courts throughout the match.
VIDEO - https://youtu.be/gLgAQ_DfHM4
In doubles action, Nicole Neumann and Sarah Seeman cruised to an 8-2 victory for the first point of the day at No. 3 before Kubota and Annette Sousa earned an 8-5 win at No. 2 and Werman and Christie Kurdys teamed up for an 8-6 win at No. 1 to sweep through doubles.
With an advantage, the Regals continued to add team points to the tally with five singles wins.
Seeman won with ease at No. 4, downing her opponent 6-0, 6-3. Sousa also won by a significant margin at 6-1, 6-2 on the third court and Neumann notched a 6-3, 6-1 win at No. 6 for the Violet and Gold. Kubota came away with a 6-2, 6-2 victory at No. 5 and Kurdys rounded out the singles action by defeating her competitor at the top court by a 6-3, 6-2 margin.
Both Kubota and Werman are four-year letter-winners who have contributed significantly to the women's tennis program throughout her career.
Cal Lutheran (4-9, 2-3 SCIAC) rounds out league action with two road matches, the first, a week from today, on Saturday, April 15, at Pomona-Pitzer with first serve set for 10:00 a.m. against the Sagehens.
Box Score: CLU 8, OXY 1
CLU Instagram: http://instagram.com/clusports#
W Tennis Instagram: http://instagram.com/regals_tennis/
CLU Twitter: https://twitter.com/clusports
W Tennis Twitter: https://twitter.com/CLUwTennis
CLU Facebook: https://www.facebook.com/clusports
Hashtags: #clusports #ownthethrone #goregals