Pirates Edge Regals
CLU continues non-conference play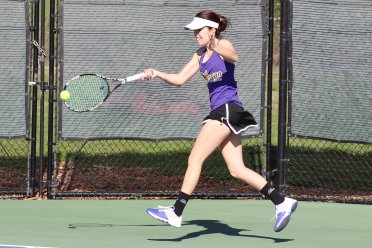 THOUSAND OAKS, Calif. – The Cal Lutheran women's tennis team continued its home stand with another non-conference match on Monday evening, falling just short to the Southwestern (Texas) Pirates 6-3 at the Poulson Tennis Center.
The Pirates took an early 2-1 lead following the doubles portion of the match after taking 8-2 victories at No. 1 and No. 3. The pairing of Sarah Seeman and Gianna Cupo stole the lone point for the Regals early on after battling back-and-forth to edge Southwestern 8-6 at No. 2.
In singles play, Cupo and Seeman came through yet again for the Violet and Gold, claiming victories at No. 5 and No. 3, respectively. After returning recently from injury, Cupo downer her opponent 6-1, 6-2 while Seeman topped hers 6-3, 6-4. The Pirates came away with wins on the remaining singles courts to clinch the match victory.
Cal Lutheran (1-7) is back in action this Friday, Mar. 17 with a match at Ventura College at 3:00 p.m.
Box Score: SU 6, CLU 3
CLU Instagram: http://instagram.com/clusports#
W Tennis Instagram: http://instagram.com/regals_tennis/
CLU Twitter: https://twitter.com/clusports
W Tennis Twitter: https://twitter.com/CLUwTennis
CLU Facebook: https://www.facebook.com/clusports