Regals Challenge Division I Valparaiso
CLU plays tough against Crusaders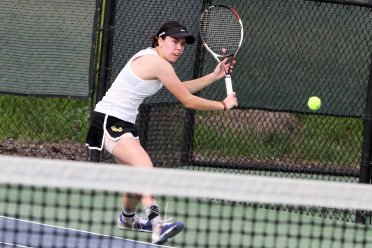 THOUSAND OAKS, Calif. – On a warm and overcast afternoon, the Cal Lutheran women's tennis team challenged Division I Valparaiso (Ind.) in a dual match at the Poulson Tennis Center, falling 5-4 in a close battle.
The only doubles point that CLU locked up came at No. 2 where Gianna Cupo and Sarah Seeman worked to an 8-6 victory.
Despite losses on courts one and three, each team competed. Shelby Kubota and Christie Kurdys chipped away at a 5-2 deficit to even the score at 5-5 before falling 8-5 and at No. 1 the CLU duo of Annette Sousa and Emily Werman was ahead 1-0, but dropped an 8-2 decision.
In singles action, the Regals looked to courts one, two and four where Kurdys, Werman and Seeman, respectively, earned individual wins for the Violet and Gold. Kurdys controlled things, winning 6-1, 6-1 in comfortable fashion. Werman faced a tougher opponent with scored at 6-4, 6-2 and Seeman served her way to a 6-3, 6-2 win to close out the match.
A tiebreaker on court six between Kubota and Randi Wind went to the Crusaders 6-2, 4-6, 6-1 in other exciting action today.
Cal Lutheran (1-6) returns to the courts on Monday, Feb. 13 for a 6:00 p.m. first serve against Southwestern (Texas) as part of a split doubleheader with the men's program as the Kingsmen play Schreiner (Texas) at 2:00 p.m.
Box Score: VAL 5, CLU 4
CLU Instagram: http://instagram.com/clusports#
W Tennis Instagram: http://instagram.com/regals_tennis/
CLU Twitter: https://twitter.com/clusports
W Tennis Twitter: https://twitter.com/CLUwTennis
CLU Facebook: https://www.facebook.com/clusports
Hashtags: #clusports #ownthethrone #goregals