Regals Fall to No. 15 Eagles
CLU continues tough schedule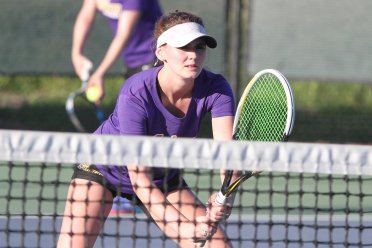 THOUSAND OAKS, Calif. – Facing yet another tough non-conference opponent on Thursday, the Cal Lutheran women's tennis team fell 9-0 to No. 15 Mary Washington (Va.) at the Poulson Tennis Center.
Once again limited due to injuries, the Regals fell behind after the Eagles swept the doubles portion of the match. Emily Werman and Annette Sousa put up a fierce battle at No. 2 doubles before falling 8-6 while the duo of Nicole Neumann and Sarah Seeman fell 8-2 at No. 1. Shelby Kubota and Christie Kurdys dropped an 8-1 decision at No. 3.
In singles action, Kurdys nearly gave the Regals a point after battling to a third set tiebreaker at No. 2. The sophomore grabbed the first set 6-4 before getting edged 7-5 and ultimately 12-10 in the deciding game. The remaining Regals fell in straight sets to the Eagles.
Cal Lutheran (1-5) turns right around with a match against Valparaiso (Ind.) tomorrow, Mar. 10 at 3:00 p.m. at Poulson Tennis Center.
Box Score: UMW 9, CLU 0
CLU Instagram: http://instagram.com/clusports#
W Tennis Instagram: http://instagram.com/regals_tennis/
CLU Twitter: https://twitter.com/clusports
W Tennis Twitter: https://twitter.com/CLUwTennis
CLU Facebook: https://www.facebook.com/clusports