Regals Bounced by Beavers
CLU defeated by Caltech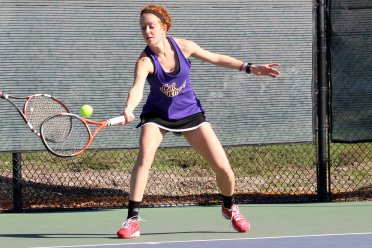 PASADENA, Calif. – After rain postponed a Southern California Intercollegiate Athletic Conference (SCIAC) match between the Cal Lutheran and Caltech women's tennis teams in mid-February, the squads squared off today with the Beavers defeating the Regals 7-2.
CLU started strong, taking two of three doubles courts, but that was all the Regals would win on a day that saw a nearly four-hour battle between the lines.
At No. 2, Gianna Cupo and Sarah Seeman both returned to the courts for the first time of the spring and promptly earned an 8-6 win. Shelby Kubota and Christie Kurdys defeated their opponents 8-2 at No. 3.
In singles action, Seeman appeared on court number four, but she lost 6-4, 6-4 in the closest individual play of the afternoon. Emily Werman battled at No. 1, dropping a 6-4, 6-2 decision while at No. 6 Nicole Neumann challenged, but fell 6-3, 6-4.
Cal Lutheran (1-4, 1-2 SCIAC) will not play another SCIAC match for the remainder of the month. The Regals return home for a three-match homestand with a 4:00 p.m. serve against the University of Mary Washington (Va.) on Thursday, March 9.
Box Score: CIT 7, CLU 2
CLU Instagram: http://instagram.com/clusports#
W Tennis Instagram: http://instagram.com/regals_tennis/
CLU Twitter: https://twitter.com/clusports
W Tennis Twitter: https://twitter.com/CLUwTennis
CLU Facebook: https://www.facebook.com/clusports
Hashtags: #clusports #ownthethrone #goregals