Ramirez Enjoys Nationals Experience
CLU sophomore learns at NCAA Division III National Championships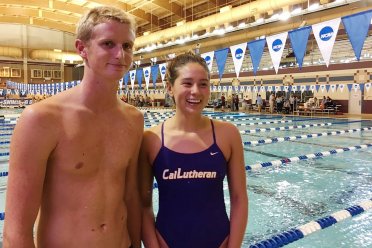 SHENANDOAH, Texas. – The 2017 National Collegiate Athletic Association (NCAA) Division III Swimming & Diving National Championships did not unfold exactly as sophomore Mardell Ramirez had hoped, but she used the meet as a learning opportunity and is more motivated than ever to earn a return trip in the future after her first appearance.
"The National Championships was a humbling experience for me," saying, "I think it was beneficial to see competitors that can control all aspects of their races." She went on, "It has fueled by passion to come back and spread amongst my team and I am excited to fire up the rest of the team and bring other women to the meet."
Entering the week, Ramirez was staged to compete in three events after qualifying in the 200 freestyle, a race she set a new Southern California Intercollegiate Athletic Conference (SCIAC), SCIAC Championships Meet and CLU record in at the league championships last month with a time of 1:51.10.
The first-year swimmer clocked a 1:55.36 in her signature event. On the first day of the meet she swam the 50 free, sprinting a time of 23.93, a touch off her seed and CLU record time of 23.84, and on the final day she competed in the 100 free, matching her seed time and school record 51.77.
Ramirez was the fourth Cal Lutheran swimmer to qualify for the National Championships and was joined by freshman men's teammate Benjamin Brewer who brought home NCAA All-America honors in the 1650.
Ramirez has now officially completed her first year of swimming and will rejoin the women's water polo team for the remainder of the spring.
Tournament Central: 2017 NCAA Division III Swimming & Diving
Results: 2017 NCAA National Championships
CLU Twitter: https://twitter.com/clusports
S&D Twitter: https://twitter.com/CLUSwimDive
CLU Instagram: http://instagram.com/clusports#
S&D Instagram: https://www.instagram.com/clu_swimming_diving/
CLU Facebook: https://www.facebook.com/clusports