Regals Pair Earn All-SCIAC
Ramirez and Sanchez honored by the conference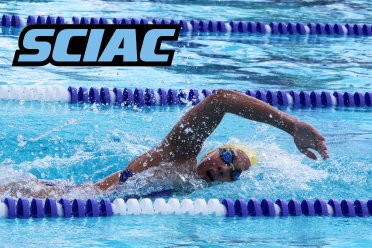 PASADENA, Calif. – Announced last week by the league office, the pair of Mardell Ramirez and Grace Sanchez from the Cal Lutheran women's swimming and diving team, earned All-Southern California Intercollegiate Athletic Conference (SCIAC) honors for their performance at the 2017 SCIAC Swimming & Diving Championships held Feb. 15-18 at the Brenda Villa Aquatics Center.
Ramirez, who was recently selected to compete in the NCAA Division III Swimming & Diving Championships, led the way for the Regals with a phenomenal weekend in the pool. The sophomore from Santa Monica, Calif. broke five school records while earning All-SCIAC honors in three events. Ramirez set a new SCIAC, Meet and CLU record with an NCAA "B" cut time of 1:51.10 to capture the individual title in the 200 free. Additionally, Ramirez reached the podium with a third place finish in the 100 free, with a school record time of 51.77, as well as the 50 free, with another school record time of 23.84. Her other school records came as a part of the 800 Free Relay, that finished with a time of 7:48.25, and as the leadoff leg of the 400 Medley Relay where she broke the 100 backstroke record in 58.39.
Sanchez shared third-place honors with Ramirez in the 50 free to earn the first All-SCIAC honors of her career. Racing to an identical time of 23.84 in the event, the sophomore from North Hollywood, Calif. earned an NCAA "B" cut time in addition to sharing the CLU record.
Senior Ellie Jaques, from the University of Redlands, was named the Athlete of the Year while freshman Jocelyn Crawford, from Claremont-Mudd-Scripps, was named the Newcomer of the Year. The Coaching Staff of the Year was awarded to Charlie Griffiths and CMS.
Release: Women's Swimming and Diving All-SCIAC
CLU Twitter: https://twitter.com/clusports
S&D Twitter: https://twitter.com/CLUSwimDive
CLU Instagram: http://instagram.com/clusports#
S&D Instagram: https://www.instagram.com/clu_swimming_diving/
CLU Facebook: https://www.facebook.com/clusports