Ramirez Shines, Regals Place Sixth at SCIAC Championships
Ramirez breaks four CLU records at championship meet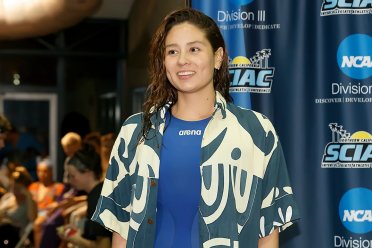 COMMERCE, Calif. – On the final day of the 2017 Southern California Intercollegiate Athletic Conference (SCIAC) Swimming & Diving Championships, the Cal Lutheran women's swimming and diving team wrapped up a sixth place overall finish while Mardell Ramirez raced to her fourth school record at the Brenda Villa Aquatics Center.
After an unforgettable day on Friday setting a SCIAC, Meet and CLU record in the 200 free, the sophomore from Santa Monica, Calif. turned right around and set another school record in the 100 free on Saturday. Ramirez swam a 52.61 in the preliminaries and improved upon her time in the finals with a 51.77 to capture third place while breaking Kelsey Meyers school record time of 52.48 that was set back in 2008. Overall, Ramirez broke four school records and earned All-SCIAC honors in three events during the meet and achieved multiple NCAA "B" cut standard times.
Grace Sanchez also qualified for the 100 free final and placed eighth overall with a time of 53.21, while Emily Sharpe competed in the consolation final and finished 15th overall in the event after touching the wall in 55.00.
In the final event of the night, Ramirez nearly broke another school record as a member of the 400 Free Relay team, but the group came just one second short while placing fourth with a time of 3:35.83. Sanchez swam the leadoff leg with a split of 53.48 and was followed by Paulina Cordero, who went 55.49 in the second position. Sharpeswam a similar time of 55.42 to keep CLU in fighting distance before handing the final leg off to Ramirez. Swimming a blistering 51.44, Ramirez gained a lot of ground but ran out of real estate to catch Chapman in the outside lane.
Other top performances came from Jessica Van der Laan, who qualified for the 1650 free final with a time of 18:05.06, and lowered her time to 17:57.74 to place sixth overall while Melody Pope placed 12th in the event with a time of 18:30.94.
Anna Lundsten was the lone Regal to compete in the 200 back and finished 17th with a time of 2:14.70. Pope and Lundsten were joined by Brianna Baldwin and Rachel Coleman to help the 400 Free "B" Relay to a 16th place finish.
Claremont-Mudd-Scripps won the team championship with an overall score of 1,289 while Pomona-Pitzer placed second with 993 and Redlands took third with 501 points. Chapman (464.50), Occidental (384), Cal Lutheran (358), Whittier (335), La Verne (258.50), and Caltech (180) rounded out the rest of the field.
Saturday night concluded the 2016-17 swimming and diving season for the Regals, though NCAA Division III Swimming and Diving Championship selections will be announced in the coming weeks for competition scheduled Mar. 15-18 in Shenandoah, Texas.
Results: Day Four
CLU Twitter: https://twitter.com/clusports
S&D Twitter: https://twitter.com/CLUSwimDive
CLU Instagram: http://instagram.com/clusports#
S&D Instagram: https://www.instagram.com/clu_swimming_diving/
CLU Facebook: https://www.facebook.com/clusports