Regals Round Out Dual Meets; Ramirez Breaks CLU Backstroke Record
CLU drops decisions to Redlands, Chapman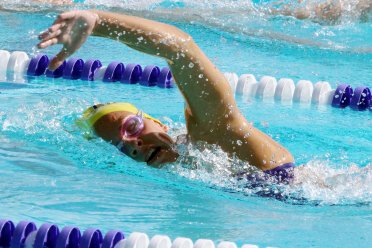 REDLANDS, Calif. –The final Southern California Intercollegiate Athletic Conference (SCIAC) multi-dual meet of the season pitted the Cal Lutheran women's swimming and diving team against Redlands and Chapman. Although the Regals fell 135-89 to the Bulldogs and 130-93 to the Panthers the team looked strong in its final outing before conference Championships.
A trio of individuals won events today and the freshman pair of Emily Sharpe and Jessica Van der Laan swam stroke-for-stroke to place first and second in the 500 freestyle with times of 5:24.54 and 5:24.95, respectively. Van der Laan also competed in the 400 Individual Medley (IM) earning a time of 5:02.39.
Mardell Ramirez set a Cal Lutheran record in the 100 backstroke, with a swim of 59.62, to replace the previous best mark of 59.86 set in 2011 by Shelby Brooks. Ramirez was also victorious in the 200 free in dominating fashion, winning by over seven seconds after clocking a 1:54.78. Sharpe also placed third in the event with a swim of 2:02.32. Finally, Ramirez was the first Regals swimmer to the wall in the 100 butterfly, tallying a time of 1:08.17 just ahead of teammate Roxanne Ramirez-Racinos (1:08.62) who produced the best 100 breaststroke time for CLU today at 1:19.45.
Sprinter Grace Sanchez had another quick race in the 50 free, winning with a time of 24.40, and was second in the 100 free after going a 56.47. Paulina Cordero notched a 50 free time of 26-flat while swimming the 100 free in 58.15 for third place.
The opening relay of the meet was the 200 Medley Relay in which Anna Lundsten, Brittany DeValk, Jamie Schultz and Christine Weyers teamed up for a finish in 2:09.27. To close out the day, Sharpe, Van der Laan, Cordero and Sanchez joined forces for the 400 Free Relay in which the quartet went a 3:50.14.
On the diving boards, the trio of Kelsey Daehlin, Brianna DeValk and Carlie Burrow competed at both heights. Burrow led the way on the one-meter board with a 160.05 followed by DeValk (156.00) and Daehlin (153.05) while on the three-meter boards Daehlin (175.35) earned the top CLU score with DeValk (148.65) and Burrow (147.00) rounding out the scoring.
Cal Lutheran (5-5, 4-4 SCIAC) will be off for two weeks in preparation of the 2017 SCIAC Championships, which will be hosted by Whittier in Commerce from Wednesday to Saturday, Feb. 15-18.
Results: UR 135, CLU 89
Results: CU 130, CLU 93
CLU Twitter: https://twitter.com/clusports
S&D Twitter: https://twitter.com/CLUSwimDive
CLU Instagram: http://instagram.com/clusports#
S&D Instagram: https://www.instagram.com/clu_swimming_diving/
CLU Facebook: https://www.facebook.com/clusports