Regals Split with Athenas, Beavers
CLU defeats Caltech at Claremont-Mudd-Scripps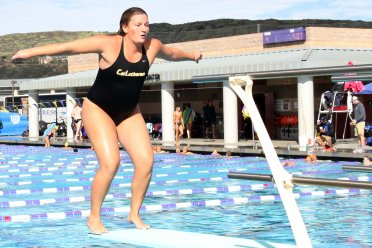 CLAREMONT, Calif. –A road meet for the Cal Lutheran women's swimming and diving team concluded with a Southern California Intercollegiate Athletic Conference (SCIAC) split against Caltech and Claremont-Mudd-Scripps as the Regals defeated the Beavers 144-60 despite falling 173-64 to the Athenas.
Mardell Ramirez won the 200 freestyle in a time of 1:54.79 and came in second in the 100 free after clocking a 53.93. Grace Sanchez was also victorious today, winning the 50 free in a sprint of 24.60 while teammate Paulina Cordero hit the wall in 26.33 for fourth. Sanchez went on to place second in the 100 backstroke with a swim of 1:02.47 and Anna Lundsten pulled up third in 1:05.92. Cordero was also the top CLU finisher in the 100 breaststroke by going a 1:15.40 for fourth. In the 200 Individual Medley (IM) Lundsten hit the wall in 2:28.45, placing fourth with teammate Allison Farre finishing next in 2:32.97.
The only other CLU winner today was in the 500 free where Jessica Van der Laan clocked a 5:26.41 to out touch second place by 38 tenths of a second. Emily Sharpe notched a time of 5:28.09 in the same event.
A quartet of divers hit the boards today with Tianna Pasko (189.30), Kelsey Daehlin (173.20) and Brianna DeValk (163.65) all earning team points for the Regals in the one-meter competition. Carlie Burrow (181.15), Daehlin (179.20) and Brianna DeValk (140.90) then went on to dive on the three-meter board and contribute to the team total.
To start the meet, the 200 Medley Relay team of Lundsten, Brittany DeValk, Brianna Baldwin and Christine Weyers joined forces to finish in 2:03.76 while the final event featured the 200 Free Relay team of Sanchez, Sharpe, Cordero and Ramirez that placed second in 1:41.89.
Cal Lutheran (5-3, 4-2 SCIAC) has one more multi-dual meet next Saturday, Feb. 4 at Redlands against both the Bulldogs and Chapman Panthers. Competition begins at 10:30 a.m.
Results: CLU 144, CIT 60
Results: CMS 173, CLU 64
CLU Twitter: https://twitter.com/clusports
S&D Twitter: https://twitter.com/CLUSwimDive
CLU Instagram: http://instagram.com/clusports#
S&D Instagram: https://www.instagram.com/clu_swimming_diving/
CLU Facebook: https://www.facebook.com/clusports