Regals Honor Senior Trio
CLU falls in SCIAC dual meet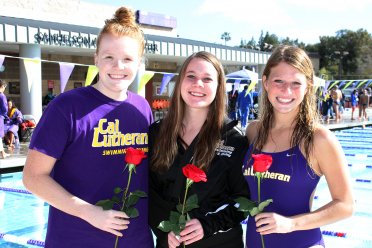 THOUSAND OAKS, Calif. – Senior day for a trio of Regals for the Cal Lutheran women's swimming and diving Southern California Intercollegiate Athletic Conference (SCIAC) dual meet took place on a cool, yet sunny morning, inside the Samuelson Aquatics Center. Despite a loss to Pomona-Pitzer, the Violet and Gold continued to improve as the end of the season nears.
The three seniors included Brittany DeValk, Kameran Joel and Tianna Pasko.
In the final home meet of her four-year career, Paskoscored a 158.85 to place second on the one-meter board, followed by teammates Kelsey Daehlin (154.45) and Brianna DeValk (141.10). Brianna DeValk and Daehlin also scored in the three-meter event, recording totals of 142.20 and 127.74, respectively.
Between the lanes, CLU got wins from Mardell Ramirez in the 500 freestyle and Grace Sanchez in the 50 free. Ramirez cruised to a six second victory in 5:21.40 while Sanchez sprinted to the wall faster than the field in 24.97. Sanchez also placed second in the 100 free with a time of 55.45.
Ramirez (2:00.30) and Emily Sharpe (2:01.73) finished second and third in the 200 free. Additionally, in the 500 free, Sharpe went a 5:31.34 for third and Melody Pope was just behind in 5:36.41. Earlier in the meet, Pope clocked a mile time of 19:07.41 to score for the Regals.
Allison Farre and Brittany DeValk swam together in both the 200 Individual Medley (IM) and 200 breaststroke. Farre finished the 200 IM in 2:32.38 and the 200 breast in 2:50.76 white Brittany DeValk went a 2:33.73 and 2:51.86
Paulina Cordero added to the team tally with her 50 free swim of 26.39 and in the 100 free (58.01). Anna Lundsten finished fourth in the 200 backstroke by clocking a 2:20.11.
The meet opened with the 400 Medley Relay team of Lundsten, Brittany DeValk, Brianna Baldwin and Christine Weyers combining for a 4:31.47.
To wrap things up in the water, the 400 Free Relay team of Rachel Coleman, Farre, Jamie Shultz and Lundsten joined forces to swim a 3:43.30.
Pomona-Pitzer improved to 6-0 in SCIAC competition and CLU suffered its first conference loss of the winter, though team members continue to improve as the end of the season approaches. Overall, 16 different student-athletes added to the team total.
Cal Lutheran (4-2, 3-1 SCIAC) will be back in action on Saturday, Jan. 28 in a tri-meet at Caltech against the Beavers and Athenas from Claremont-Mudd-Scripps. Competition begins at 10:30 a.m.
Results: PP 164, CLU 69
CLU Twitter: https://twitter.com/clusports
S&D Twitter: https://twitter.com/CLUSwimDive
CLU Instagram: http://instagram.com/clusports#
S&D Instagram: https://www.instagram.com/clu_swimming_diving/
CLU Facebook: https://www.facebook.com/clusports