Second Straight Shutout for Regals
CLU takes two of three in Texas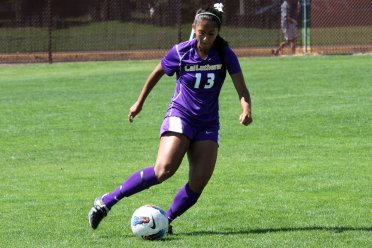 SHERMAN, Tex. – For the second straight game the Cal Lutheran women's soccer team earned a shutout victory despite the Texas heat, today defeating Austin College 4-0, in their third game in as many days.
Fatigue and weather did not play too much of a factor as CLU clearly controlled the momentum of the contest from the get-go, totaling 14 shots while allowing just three to AC, which all came in the first half.
The goalkeeping duo of Kristin Bailey and Karly Loberg combined for the shutout, aided by a strong defensive performance from the Violet and Gold. Neither recorded a save as Austin was unable to shoot anything on target.
Offensively, Alli Calabrese, no newcomer to the collegiate ranks as a transfer from Whittier College, netted a pair of first half goals to put the Regals at an early advantage that they would maintain throughout the 90 minutes of action. Her first CLU goal and the ultimate game winner came in the 6th minute on a pass from Chelsea Braudo. Six minutes later Brittany Eremita noticed Calabrese open near the Austin cage as she scored her second of the game. Each goal came on a cross from the left side of the field.
"They both did a great job of giving the ball to be right in front of the goal and I just placed both to the right corner of the cage," Calabrese said.
After the intermission two freshmen scored the first collegiate goal of her respective career. Julia Kearns found the back of the net in unassisted fashion in the 71st minute before Katelyn Kimball added one more at the 88:46 mark with Kristina Hulse recording the assist.
Calabrese and Sierra Duarte fired off three shots apiece while eight other CLU players took a chance as well.
"We are really getting to know each other and how each player plays," Calabrese shared. "This weekend gives us some confidence moving forward to our first conference game in a little more than a week."
Cal Lutheran (3-2) has 10 days off to recover before opening Southern California Intercollegiate Athletic Conference (SCIAC) play on Wednesday, Sept. 18 at Redlands. Kickoff is set for 7:00 p.m.
Box Score: CLU 4, AC 0
CLU Twitter: https://twitter.com/clusports
Facebook: https://www.facebook.com/clusports