Regals Travel to CMS for SCIAC Postseason Tournament Semifinal
CLU to take on Athenas for second straight year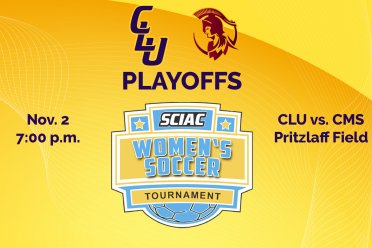 THOUSAND OAKS, Calif. – The Cal Lutheran women's soccer team will compete in its 11th straight Southern California Intercollegiate Athletic Conference (SCIAC) Postseason Tournament after locking up the No. 3 seed for the second straight year. The Regals (12-4-4, 6-4-4 SCIAC) will face off against No. 2 seed Claremont-Mudd-Scripps (14-5-1, 11-2-1 SCIAC) on Wednesday, Nov. 2 at 7:00 p.m. at Pritzlaff Field, in a rematch of last season's SCIAC PST Semifinal.
CLU defeated the Athenas 2-1 last year to advance to the final round, only to fall 1-0 to Pomona-Pitzer in a tightly contested match. The Regals have appeared in the SCIAC PST Final three seasons in a row and last won the tournament in 2011.
In two games against the Athenas this year, the Violet and Gold lost 1-0 on the road and battled to a 1-1 tie after two overtime periods at home. Laynee Laube provided the game-winner for CMS in the first game while Katelyn Kimball scored for CLU, and Megan Lo for CMS, in game two.
The Regals are paced offensively by junior Kali Youngdahl and sophomore Ryley Settles, who lead the team with six goals apiece. Youngdahl has scored four of her goals against SCIAC opponents and Alex Albaeck is next on the team with two goals in conference matches. Bri Pinal has enjoyed an outstanding junior season and has three goals to go along with a conference-leading five assists. The CLU defense is spearheaded by Olivia Leyva, Julia Kearns, Riley Martin, Zandra Stewart and goalkeeper Coral Hasley and boasts a goal against average of 0.74, ranking second to only Pomona-Pitzer in the conference. Hasley is fifth in the league with 51 saves and the Regals have recorded an incredible eight shutouts throughout the season.
Claremont-Mudd-Scripps, meanwhile, is led by Laube and Katelyn Faust, who each have eight goals to their name this season, including five each against SCIAC competition. Laube leads the conference with 19 points when adding her three assists to her goal tally. As a team, the Athenas have racked up 39 goals, second in the SCIAC, and are second with a .127 shot percentage. Defensively, CMS ranks third in goals against average at 0.83 and has seven shutouts. Kelly McConnell is seventh in conference play with 36 saves.
In the other semifinal match, No. 1 seed and conference champion Pomona-Pitzer (14-1-2, 12-0-2 SCIAC) will host No. 4 seed Chapman (9-8-1, 6-7-1 SCIAC). The Sagehens defeated the Panthers 5-0 at home and 2-0 on the road in their two matchups this season. The winner of each semifinal match will meet in the tournament final at the site of the highest seed remaining on Saturday, Nov. 5, with an automatic bid to the NCAA Tournament on the line.
Tournament Central: 2016 SCIAC Women's Soccer Postseason Tournament
Live Stats: Cal Lutheran at Claremont-Mudd-Scripps
Video: Cal Lutheran at Claremont-Mudd-Scripps
CLU Instagram: http://instagram.com/clusports#
CLU Twitter: https://twitter.com/clusports
CLU Facebook: https://www.facebook.com/clusports