Regals Tie Tigers on Senior Night
Four seniors play in final home match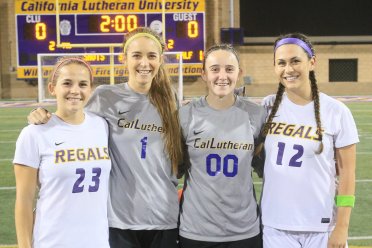 THOUSAND OAKS, Calif. – In the final home match of the season, the Cal Lutheran women's soccer team battled to a 1-1 draw after two overtime periods against Occidental on Wednesday night inside Rolland Stadium.
Prior to the match, the senior quartet of Stacey Choate-Ciletti, Coral Hasley, Julia Kearns and Katelyn Kimball were recognized for their contributions to the Regals soccer program and Department of Athletics over the past four years.
Looking to make her senior night one to remember, Kearns recorded her first career assist in just the sixth minute of the match to help the Regals take an early lead. The senior from nearby Simi Valley, Calif. raced down the right side of the pitch and sent a perfect cross into the box where Kali Youngdahl used her body to knock the ball into the net.
CLU and Occidental traded possession a fair amount in the early going, and the Tigers eventually found an equalizer in the first half. In the 20th minute, Occidental earned a corner kick and capitalized after Megan Maher headed the ball into the goal.
Both teams traded chances throughout the rest of the match but neither team found a go-ahead goal.
In the second overtime, the Regals had a great look as Sarah Tadeusiak headed the ball towards an empty net, but a Tiger defender came from nowhere to head the ball away.
A handful of strong defensive plays from Choate-Ciletti, Olivia Leyva, Zandra Stewart, Jackie Albers and Tessa Dwyer helped the Violet and Gold preserve the tie.
Occidental ended up outshooting the Regals 18-10 while both teams were even 6-6 on corner kicks. Youngdahl led CLU with three shots and the pair of Tadeusiak and Pinal added two apiece. Choate-Ciletti and Hasley split time in the goal and each recorded four saves.
Cal Lutheran (12-3-4, 6-3-4) will conclude the regular season this Saturday, Oct. 29 with a match against Whittier at 7:00 p.m.
Results: CLU 1, OXY 1 (2OT)
CLU Instagram: http://instagram.com/clusports#
CLU Twitter: https://twitter.com/clusports
CLU Facebook: https://www.facebook.com/clusports