Regals Unravel La Verne
CLU clinches SCIAC Postseason Tournament berth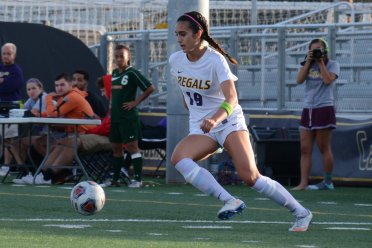 THOUSAND OAKS, Calif. – The Cal Lutheran women's soccer team got back in its groove on Saturday night with a 2-0 victory over La Verne inside Rolland Stadium. With the win, the Regals clinched a spot in the Southern California Intercollegiate Athletic Conference (SCIAC) Postseason Tournament.
After being held scoreless for six straight halves over the last three games, including the first half of Saturday night's match, the Violet and Gold broke through to start the second frame.

In the 47th minute, Bri Pinal put the Regals on the board with an impressive shot from the right side of the pitch that floated into the back left corner of the goal.
Later in the half, Riley Martin took a corner kick for CLU and lofted a perfect ball into the mix in the box where Nina Winsick followed through and fired a goal in the blink of an eye.
With a strong 2-0 lead the Regals defense held on for its eighth shutout of the season. Coral Hasley had two saves on the only shots on target from the Leopards. CLU outshot La Verne 13-8, including 9-3 in the second half, and held a 3-1 advantage on corner kicks. Pinal finished with five total shots, four of which came on goal, and Kali Youngdahl finished with three.
Cal Lutheran (12-3-3, 6-3-3) will compete in its final home game this Wednesday, Oct. 26 against Occidental at 7:00 p.m. Prior to the match, four seniors Stacey Choate-Cilletti, Coral Hasley, Julia Kearns and Katelyn Kimball will be recognized for their contributions to the women's soccer program and Department of Athletics over the years.
Results: CLU 2, LV 0
CLU Instagram: http://instagram.com/clusports#
CLU Twitter: https://twitter.com/clusports
CLU Facebook: https://www.facebook.com/clusports