Regals Net Five to All-SCIAC Team
Youngdahl named to First Team; four make Second Team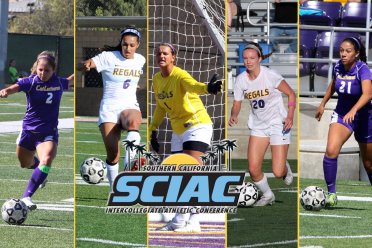 PASADENA, Calif. – Five members of the Cal Lutheran women's soccer team earned All-SCIAC recognition as it was announced by the Southern California Intercollegiate Athletic Conference on Wednesday evening.
Kali Youngdahl earned First Team honors while a quartet of Regals in Bianca Deardorff, Kiki Bailey, Olivia Leyva, and Alli Calabrese were named to the Second Team.

Youngdahl, a freshman midfielder, paced the Regals offensive attack in conference play with six goals to lead the team and finished tied for third in the conference. She helped spark Cal Lutheran's 12 game unbeaten streak by scoring five goals during the first three games of the streak. Youngdahl added one assist against SCIAC opponents and added two game-winners during the team's seven game winning-streak.

Bailey, a four-year goalkeeper for the Regals, earned her first All-SCIAC honor after leading all goalies in the conference with an 8-1-2 record and a 0.71 goals against average. Bailey moved on up in the Cal Lutheran record books this season and now ranks third all-time with 220 career saves and she ranks second with 23 solo shutouts. In conference play, Bailey registered three shutouts, 54 saves, and was tops in the conference with a save percentage of .857.

Deardorff, a junior forward, demonstrated a flashy ability to beat her defender with crisp ball handling skills and was consistent all season on creating opportunities for her teammates. The transfer from Pepperdine finished second on the team in SCIAC competition with two assists and tied for third on the team with two goals. Deardorff provided the game-winning goal against Pomona-Pitzer in the SCIAC Postseason Tournament Semifinal and she added another game-winner against Occidental.

Leyva, a freshman defender, helped lead CLU to four shutouts in conference action and was the go-to Regal during free kicks. In her debut season for the Violet and Gold, the La Cañada, Calif. native came on strong midway through the season and began to impact the game on the offensive side as well. She scored two goals and recorded at least one shot in all but one game during the final two months of the season.
Calabrese, a senior midfielder, was a consistent force on the pitch for the Regals starting all 14 conference games that she played and brought an added dimension to the team. She fired off six shots in conference play and scored two goals including the game-winner in a non-conference meeting against Whitman.

Occidental senior forward Julie Khil was named the Women's Soccer Athlete of the Year after leading the league in scoring with eight goals. Abby Onderwyzer Gold from Pomona-Pitzer earned SCIAC Newcomer of the Year and Keri Sanchez was named Coach of the Year after leading Claremont-Mudd-Scripps to a first place conference finish. Taryn Ng from Occidental was honored with the Brine Award of Distinction.

Release: 2014 All-SCIAC Selections
CLU Twitter: https://twitter.com/clusports
Follow Kiki: @KikiBaileyGK
CLU Facebook: https://www.facebook.com/clusports
CLU Instagram: http://instagram.com/clusports#