Regals Slide Past Banana Slugs
CLU makes it five in a row with 1-0 victory over UC Santa Cruz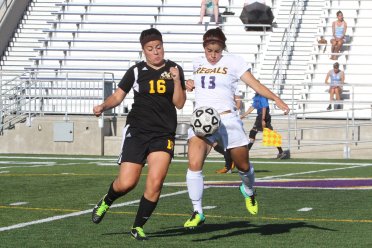 THOUSAND OAKS, Calif. - Nancy Nunez came through in the clutch for the Cal Lutheran women's soccer team scoring the game winning goal in the 77th minute giving the Regals a 1-0 victory over visiting UC Santa Cruz on Monday afternoon at Rolland Stadium.

The win marks the fifth straight for the Violet and Gold who are on a tear in the recent weeks. CLU is undefeated in their last seven games, going 6-0-1 during that stretch.

The game got off to an even start with both teams sharing the possession early on. In the 21st minute, Kali Youngdahl worked for her own shot in the middle of the attacking third and fired a shot that went straight to the goalie's arms.

Just three minutes later, Nicole Campbell was looking to make it her third goal in three games with an impressive shot that was hooking to the corner, however the Banana Slug's goalie made a diving stop on the play.

After a scoreless first half, the Regals applied the pressure in the second half dominating possession and creating chance after chance.

Bianca Deardorff displayed nifty footwork in the 66th minute, juking left and then right, opening up a shot for herself but just missed right above the crossbar.
In the 77th minute, Nunez converted one of the chances for CLU as she got in the box and shot at point blank range right into the chest of the goalie. The ball bounced right back to Nunez, who rebounded the ball and poked it into the left corner of the goal.

After finally capitalizing on their opportunities, CLU stepped it up on the defensive end to hold of the UC Santa Cruz attack. With just five minutes remaining in the game, the Banana Slugs were awarded a corner kick and they got a clean look at a shot but Alli Calabrese stepped into the goal and headed the ball away to save the Regals.


CLU outshot UC Santa Cruz 12-11 throughout the game and both teams were even in corner kicks with five apiece. Nunez led the team with three shots while Youngdahl and Katelyn Kimball each provided two shots in the game and one shot on goal.

Olivia Leyva, Mallory Carcich and Julia Kearns gave a strong defensive effort holding the Banana Slugs scoreless and Kiki Bailey recorded five saves in goal.

Cal Lutheran (8-4-2, 5-2-1 SCIAC) will be back in conference action against La Verne (5-6-1, 3-4-1 SCIAC) on Wednesday night at Rolland Stadium at 7:00 p.m.

Box Score: UCSC 0, CLU 1
CLU Twitter: https://twitter.com/clusports
Follow Kiki: @KikiBaileyGK
CLU Facebook: https://www.facebook.com/clusports
CLU Instagram: http://instagram.com/clusports#