Regals Win Thriller to Conclude Slugfest Tournament
Last second goal in double-overtime wins it for Cal Lutheran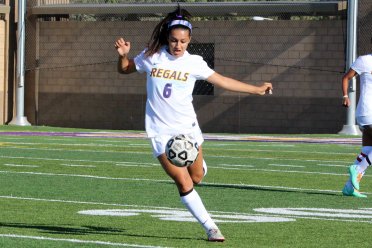 SANTA CRUZ, Calif. – The Cal Lutheran women's soccer team wrapped up the Santa Cruz Slugfest Tournament in dramatic fashion by defeating Whitman (Wash.) 2-1 in double overtime. Alli Calabrese scored on a putback attempt in the 110th minute to capture the victory.

Calabrese had a busy day on the pitch scoring two goals including the game-winner.

After playing to a scoreless draw in the first half, CLU got an opportunity early on in the second half. After earning a corner kick, Charlotte Rosen crossed the ball into the box and Calabrese knocked it into the back of the net after a scramble for the ball at the goal line.

Holding on to a 1-0 lead, it was not long before Whitman evened the score. In the 67th minute, Danielle Wieck scored for the Missionaries on the assist from Lena Guzman.

With the score all knotted up, the Regals played a physical match contending for every possession and racking up 21 fouls to go along with two yellow cards.

At the end of the second half, Whitman staged a furious attack, rifling off four shots in a two minute span. Cal Lutheran's defense held strong making key blocks and pressuring the Missionaries to miss high and wide on their attempts.

CLU would have one final chance to win the game in regulation after earning another corner kick, but they could not convert and would head to overtime for the second time this season.

With neither team budging in the first overtime, the game would require 10 more minutes of action to decide the winner.

The Missionaries created two opportunities in the 106th minute, but could not capitalize and came up short on both of their shot attempts.

Cal Lutheran, on the other hand, capitalized in the biggest way possible in the final minute of the game.

"Someone got fouled around the 40 yard area and Olivia (Leyva) took the kick," Calabrese described the final play, "The keeper tried to catch the ball, but it bobbled out of her hands and I ran through and kicked it in."

With the victory, the Regals split their two games in the tournament after losing a 2-1 decision to Linfield (Ore.) on Sunday. Katie Moyer scored her first goal of the season on a free kick in the first half, however CLU allowed a late goal from the Wildcats to close out the game.

Cal Lutheran (2-2-1) begins Southern California Intercollegiate Athletic Conference (SCIAC) play next week when they hit the road to face Claremont-Mudd-Scripps on Wednesday, Sept. 17 at 7:00 p.m.
Box Score: CLU 2, WTM 1
Box Score: LC 2, CLU 1
CLU Twitter: https://twitter.com/clusports
Follow Kiki: @KikiBaileyGK
CLU Facebook: https://www.facebook.com/clusports
CLU Instagram: http://instagram.com/clusports#