Regals Trio Earns Golf All-SCIAC
CLU has three recognized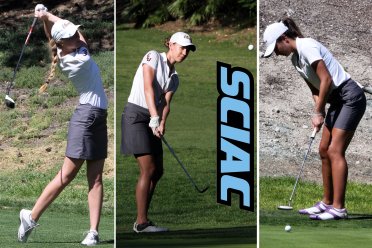 ALISO VIEJO, Calif. – Announced today by the Southern California Intercollegiate Athletic Conference (SCIAC), Cal Lutheran golfers Delaney Buck, Ally Gaskill and Marissa McCardell were each named to the 2017 Second Team All-SCIAC for the first time of her career.
The three CLU selections doubles the previous number of honorees for the entire women's golf program since its inception in 2012. Brenna Callero was the first awardee in 2012 and McKay Weiler is the only current two-time winner (2013, 2014) while Jenna Gimbel also earned recognition in 2014.
Gaskill had a breakout spring as a sophomore, scoring an average of 81.86 strokes per round during the seven SCIAC rounds to lead the Regals. She produced scores of 85, 84, 82, 81, 79, 82 and 80 in conference rounds one through seven. The Reno, Nevada native, finished 15th in the individual standings.
Smoothly transitioning to collegiate golf, both Buck and McCardell were instrumental in the success of the team this spring. Shooting nearly equal averages, McCardell and Buck finished with stroke averages of 82.29 and 83.0, respectively, to finish 17th and 18th individually for the Violet and Gold.
McCardell shot her best round of 18 on day two of the 2017 SCIAC Championships with a 77 and turned in scores of 87, 87, 83, 78, 80 and 84 in the other league events throughout the season. Buck, meanwhile, shot a team-low 76 on the second day of SCIAC Championships, carding rounds of 82, 83, 85, 84, 86 and 85 during the remaining conference competitions.
Redlands junior Caroline Ordian was named the 2017 Player of the year and Claremont-Mudd-Scripps freshman Emma Kang was awarded the Newcomer of the Year award. Junior Whittier golfer Ciara Clark was selected for the Sportsmanship Award and finally, Jodie Burton and her staff from CMS were chosen as the Coaching Staff of the Year.
Release: All-SCIAC
CLU Instagram: http://instagram.com/clusports#
W Golf Instagram: http://instagram.com/clu_golf/
CLU Twitter: https://twitter.com/clusports
W Golf Twitter: https://twitter.com/CLUGolf
CLU Facebook: https://www.facebook.com/clusports
Hashtags: #clusports #ownthethrone #goregals