Regals Wrap Up Season in Fourth
CLU closes out 2016-17 campaign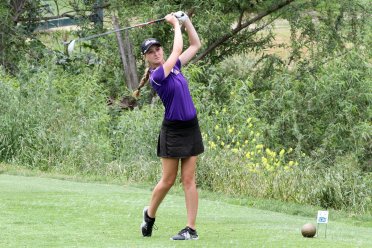 CHINO HILLS, Calif. – The Southern California Intercollegiate Athletic Conference (SCIAC) Championships were a new experience for the majority of the Cal Lutheran women's golf team that placed fourth in 2017.
Playing at the Los Serranos Country Club for the first time, the Regals teed off with the women's field on the North course, which is a par-72 that totals 5827 yards. The conditions were great for golfing with cloud cover and warm temperatures despite a little bit of wind.
Cal Lutheran combined to score a 969 (+105) with the best round of the tournament coming on Monday when the Violet and Gold posted a 313. All six Regals contributed at least one scoring round and each recorded at least one birdie as three different players led in the scoring column in the trio of rounds. Ally Gaskill carded a team-low 79 on Sunday with Delaney Buck earning a team-best score of 76 on Monday and today Chloe Barnes was the low-scorer with a 79.
Freshman Marissa McCardell and sophomore Gaskill paced the group with identical scores of 241 (+25) to tie for 11th. Another pair shot equal scores with Barnesand Buckeach carding a 54-hole total of 247. In her first SCIAC competition, Erica Mitchell shot a 252, chipping in two scores to the team total, and Courtney Martin rounded out the team with a 256.
All three of the scores McCardell produced helped the team score as she shot an 80 in the opening round, a best-score of 77 on Monday and an 84 during the final round. She had a birdie on hole four of round one and at hole five on Monday. Gaskill also had two birdies, which came at hole one on Sunday and on the final hole of the tournament today at 18 as she shot rounds of 79, 82 and 80.
Buck finished with a trio of birdies, taking place on hole one on Sunday during a round of 86 and holes 11 and 14 yesterday when she carded a 76 before using 85 strokes today. Barnes, also finished with two birdies, which came on Monday at holes six and 12. She struggled in the opening round, shooting an 88, but improved by eight strokes to an 80 on Monday and by one more today for a 79.
Mitchell finished with four total birdies as she put up two Sunday on back-to-back holes at two and three before adding a third on Monday on hole 15 and a final birdie today at hole six. Her rounds were 88, 80 and 84 for the Regals during the tournament.
Individually, Emma Kang from Claremont-Mudd-Scripps won with a 221 (+5) ahead of Caroline Ordain (UR) and Andi Chaloult (PP) with 224 and 225, respectively, for second and third.
Based on total season SCIAC strokes, Claremont-Mudd-Scripps took home the team 2017 title followed by Redlands, Pomona-Pitzer and Cal Lutheran.
Cal Lutheran has rounded out the 2016-17 campaign and will return its entire roster in 2017-18.
Results: SCIAC Championships
CLU Instagram: http://instagram.com/clusports#
M Golf Instagram: http://instagram.com/clu_golf/
CLU Twitter: https://twitter.com/clusports
M Golf Twitter: https://twitter.com/CLUGolf
CLU Facebook: https://www.facebook.com/clusports
Hashtags: #clusports #ownthethrone #gokingsmen #theSCIAC #ncaad3 #purplepit