Regals Finish Fifth at SCIAC No. 2
CLU improves in second round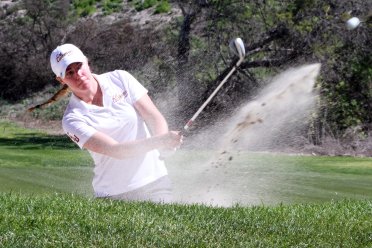 WEST COVINA, Calif. – The second and final Southern California Intercollegiate Athletic Conference (SCIAC) multi-dual match of the spring took place this weekend at the South Hills Golf Course where the Cal Lutheran women's golf team placed fifth after shooting a 36-hole total of 654 (+86).
On Saturday, CLU combined to shoot a 332 and today the Regals came back in 10 less shots to finish with a 322 on the par-71 course that measured 5846 yards.
Marissa McCardell tied for 12th with rounds of 83 and 78 to finish in 161 swings while Chloe Barnes and Ally Gaskill placed 15th and 16th, respectively, with totals of 162 and 163. Both shot opening round 82's before Barnes came back in 80 and Gaskill shot an 81 today.
The next finisher for Cal Lutheran was Delaney Buck (169) followed by Hanna Pasco (170) and Courtney Martin (171). Pasco improved in round two by shooting an 83 after opening with an 87 and Buck also shaved a stroke on Sunday, carding an 84 after a Saturday round of 85. Martin was consistent with even rounds of 86.
Redlands won the team crown with a tally of 612 (+44) while Bulldogs junior Caroline Ordian shot a tournament-low 145 (+3) to occupy the top spot overall.
Cal Lutheran has completed regular league action and will next compete on Sunday, April 23 through Tuesday, April 25 at the 2017 SCIAC Championships hosted by Claremont-Mudd-Scripps at Los Serranos Golf Club in Chino Hills, Calif. Tee times are set for 7:00 a.m. each day.
Results: SCIAC No. 2
CLU Instagram: http://instagram.com/clusports#
W Golf Instagram: http://instagram.com/clu_golf/
CLU Twitter: https://twitter.com/clusports
W Golf Twitter: https://twitter.com/CLUGolf
CLU Facebook: https://www.facebook.com/clusports
Hashtags: #clusports #ownthethrone #goregals #theSCIAC #ncaad3 #purplepit #d3g