Regals Tie for Fifth at Ogio Bulldog Classic
McCardell ties for fifth to lead CLU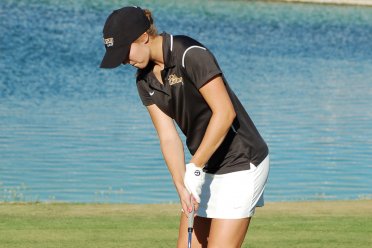 INDIO, Calif. – The Cal Lutheran women's golf team competed in the inaugural Ogio Bulldog Classic at Indian Springs Golf Club on Monday and Tuesday, and finished with a team total of 646 (+70) to tie for fifth overall.
Marissa McCardell paced the Regals on the course with a 36-hole score of 154 (+10) to tie for fifth overall. The freshman from Clovis, Calif. was very consistent, carding a 77 (+5) in both rounds.

The lowest round for CLU came from Chloe Barnes, who shot a 76 (+4) in the second round of play. Fresh off SCIAC Athlete of the Week honors, Barnes tied for 16th overall after a two-round total of 160 (+16).
Ally Gaskill opened the tournament with a round of 80 on Monday before tallying an 82 on the final day of competition to finish 20th overall. Delaney Buck totaled a 170 (+26) with rounds of 83 and 87 while Lauren Fesler shot an 88 and 93 to round out the scoring for CLU.
George Fox claimed the team title with a total score of 611 (+35) and Claremont-Mudd-Scripps placed second after scoring 635 (+59). Redlands was close behind in third place with a score of 638 (+62). Sydney Maluenda from George Fox captured the individual title with a total score of 145 (+1).
Cal Lutheran returns to action in two weeks, on Apr. 8-9, at the Southern California Intercollegiate Athletic Conference (SCIAC) No. 2 tournament at Oak Quarry Golf Course in Riverside, Calif. hosted by La Verne.

Results: Ogio Bulldog Golf Classic
CLU Instagram: http://instagram.com/clusports#
W Golf Instagram: http://instagram.com/clu_golf/
CLU Twitter: https://twitter.com/clusports
W Golf Twitter: https://twitter.com/CLUGolf
CLU Facebook: https://www.facebook.com/clusports
Hashtags: #clusports #ownthethrone #goregals #theSCIAC #ncaad3 #purplepit #d3g