Regals Consistent at Primm Battle
CLU places 12th in tough field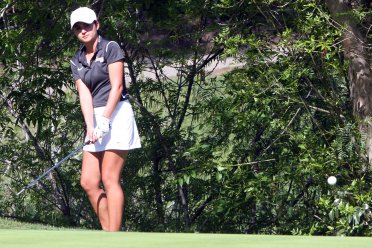 PRIMM VALLEY­, Calif. – To kick off spring break, the Cal Lutheran women's golf team travelled to the Primm Battle hosted by Grand View University to play a 36-hole tournament at the Primm Valley Resort Golf Club, placing 12th against teams from various levels from across the country.
The Regals played the par-72 course that measures 5938 yards and did so in consistent fashion, shooting identical rounds of 332 for a two-day total of 664 (+88).
On day one, Marissa McCardell was the only CLU player to break 80, shooting a 77 for the Violet and Gold. Ally Gaskill, Delaney Buck and Chloe Barnes were all separated by one stroke, shooting rounds of 84, 85 and 86, respectively. Lauren Fesler rounded out the group with a 92.
Tuesday during the second round, Barnes improved by 11 strokes to shoot a 75 and finish with a team-best 161 (+17) to tie for 35th. Gaskill shot the second best round today with an 80, four swings better than her opening score, while McCardell was the third score at 85 and Fesler equaled her Monday round of 92. Buck completed the day with 95 strokes as the final CLU golfer.
Overall, McCardell finished one swing back of Barnes with a 162, Gaskill shot a 164, Buck produced a 179 and Fesler carded a 184.
After the first day of play, Embry Riddle (Ariz.) and Keiser (Fla.) were tied for first as a team with 299, but the Florida NAIA school went on to outshoot the field with a one-over 289 to finish with a two-day total of 588 (+12) to win the team title.
Individually, Kat Kennedy from British Columbia shot a five-under 67 on day two to finish with a 141 (-3) to win the tournament. Natalie Ugaldy from Wayland Baptist shot a 70 (-2) on Monday to pace the field in round one.
Cal Lutheran continues non-conference play on Monday and Tuesday, March 27-28 when the Regals travel to the Redlands Invitational at Indian Springs Golf Course. Tee times are set for 8:00 a.m. each day.
Results: Primm Battle
CLU Instagram: http://instagram.com/clusports#
W Golf Instagram: http://instagram.com/clu_golf/
CLU Twitter: https://twitter.com/clusports
W Golf Twitter: https://twitter.com/CLUGolf
CLU Facebook: https://www.facebook.com/clusports
Hashtags: #clusports #ownthethrone #goregals #theSCIAC #ncaad3 #purplepit #d3g