Regals Place Third at Fourth Annual Cal Lutheran Invitational
CLU wraps up host tournament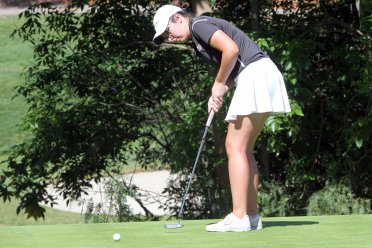 THOUSAND OAKS, Calif. – It was another beautiful day at the Sunset Hills Golf Course for the conclusion of the Fourth Annual Cal Lutheran Invitational that featured seven teams from the region and beyond playing the 5806-yard, par-72 course for the second day.
Pomona-Pitzer shot a 316 today to maintain the lead and win the tournament for the first time after finishing in 39 strokes less than second place with a 36-hole tally of 633 (+57). Whittier (672) placed second with Cal Lutheran climbing into third with 675. Chapman (689), TLU (722), Occidental (755) and Augsburg (840) round out the finishers.
For the first time this season, Ally Gaskill broke 80, shooting a team-low 78, which was 11 swings better than yesterday for a team-best 167. Delaney Buck carded an 81 today to tally 168 over the two rounds. Chloe Barnes,who took nine strokes off her opening round to finish with an 81 today for a two-day total of 171, and Marissa McCardell,who used 84 swings to finish the tournament in 174, both improved as well. After leading the Regals on Monday, Courtney Martin struggled today with a 97 to finish in 181.
Rounding out the Regals was a quartet of individuals. Hannah Pasco took one stroke off her Monday round to finish in 83 today and 167 overall and Karlie Lemon improved on her first round by two strokes to finish in 108 for a 218 total. Erica Mitchell shot an 87 on day two to card a 173 and Laura Fesler used 91 swings on Tuesday for a tournament score of 172.
Valerie Wang from Pomona-Pitzer and Taylor Beckwith from Whittier tied with 155, but Wang won the tiebreaker with a 77 today. Beckwith from Whittier placed second and Jennifer Kim (PP) was third with a 157.
CLU was crowned the champion in 2014 and 2015 with Claremont-Mudd-Scripps winning the team title in 2016.
Cal Lutheran will travel to Primm Valley for the Grand View Invitational on Monday and Tuesday, March 27-28.
Results: CLU Invitational – results not available at time of release
CLU Instagram: http://instagram.com/clusports#
W Golf Instagram: http://instagram.com/clu_golf/
CLU Twitter: https://twitter.com/clusports
W Golf Twitter: https://twitter.com/CLUGolf
CLU Facebook: https://www.facebook.com/clusports
Hashtags: #clusports #ownthethrone #goregals #theSCIAC #ncaad3 #purplepit #d3g