Regals Finish Day One of Cal Lutheran Invitational in Fourth
CLU plays as team, individuals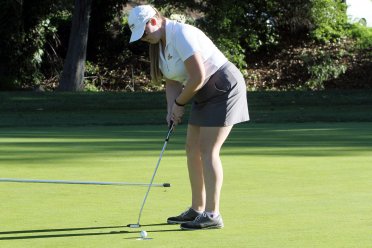 THOUSAND OAKS, Calif. – On a gorgeously clear, yet warm March day, the Cal Lutheran women's golf team hosted the Fourth Annual Cal Lutheran Invitational at Sunset Hills Golf Course where seven teams met to compete in the 36-hole event.
All competitors are playing the par-72 course that mixes shorter par-three holes and longer range challenges, during the two days, totaling 5807 yards on Monday and 5806 yards on Tuesday.
Cal Lutheran is joined in 2017 by Augsburg (Minn.), Chapman, Occidental, Pomona-Pitzer, Texas Lutheran, Whittier. Oxy and PP have played in the tournament all four years and both Augsburg and TLU have played twice with CU and WC appearing in the invitational for the first time this spring.
No stranger to SHGC, Courtney Martin led the Regals with an 85 today on a course that the team plays a few times a month as a practice course. Delaney Buck posted the second lowest score for CLU with an 87 in her first Cal Lutheran Invitational. Another returner who has played the course over the years, Ally Gaskill, was the third team score with an 89 while the top-two position players for the Violet and Gold, Chloe Barnes and Marissa McCardell, carded equal rounds of 90 today.
After the first day of play, Pomona-Pitzer led the way with a 317 (+29). Whittier (327) sits in second with Chapman (344) holding onto third. Cal Lutheran (351) is currently fourth followed by TLU (370), Occidental (378) and Augsburg (421).
Additionally, four more Regals played individually with Laura Fesler pacing the group with a low-Cal Lutheran round of 81. Hannah Pasco shot an 84, Erica Mitchell finished in 86 and Karlie Lemon rounded things out with a 110.
Taylor Beckwith from Whittier earned the best score of the day at 75 (+3) and teammate Kajal Vitha and Jennifer Kim of Pomona-Pitzer shot 77's.
Teams will conclude the 2017 Tournament tomorrow with a second round beginning at 8:30 a.m.
Results: CLU Invitational Day One
CLU Instagram: http://instagram.com/clusports#
W Golf Instagram: http://instagram.com/clu_golf/
CLU Twitter: https://twitter.com/clusports
W Golf Twitter: https://twitter.com/CLUGolf
CLU Facebook: https://www.facebook.com/clusports
Hashtags: #clusports #ownthethrone #goregals #theSCIAC #ncaad3 #purplepit #d3g