Regals Finish Fourth at SCIAC No. 1
CLU has solid showing in first league rounds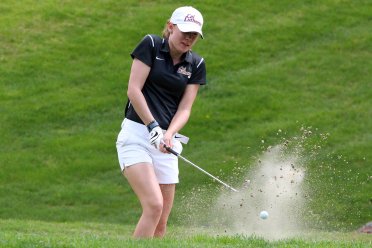 SAN DIMAS, Calif. – Two weeks after opening its spring schedule, the Cal Lutheran women's golf team swung into Southern California Intercollegiate Athletics (SCIAC) action at the SCIAC No. 1 played at the San Dimas Golf Course. The Regals placed fourth by shooting a 36-hole total of 682 (342-340).
The San Dimas Canyon course was a par 72 that measured 5856 yards. Leading the way throughout the weekend was Delaney Buck who shared fourth as an individual with an 82 on Saturday and an 83 on Sunday for a two-day total of 165 (+21).
Ally Gaskill was the second lowest score in the tournament after shooting rounds of 85 and 84 for a three-way 10th place tie of 169. Marissa McCardell (174) and Chloe Barnes (176) finished two strokes apart from one another after consistent performances of 87-87 and 88-88, respectively, in the two rounds. Also contributing to the team total today was Courtney Martin whose 86 was a 10-stroke improvement from her first 18-holes.
Additionally, Hanna Pasco played as an individual and she took five strokes off her Saturday scored to finish the Sunday round in 89 swings.
Claremont-Mudd-Scripps earned the team title with a score of 649 followed by Redlands (670) and Pomona-Pitzer (678) to represent the top three finishers. Following CLU were Whittier (690), Chapman (765) and Occidental (786). Individually, Margaret Loncki was the top finisher by 10 strokes with a 153 (+9) for CMS.
Cal Lutheran will host the Fourth Annual Cal Lutheran Invitational at Sunset Hills Golf Course March 13-14 with play beginning at 8:00 a.m. each day.
Results: SCIAC No. 1
Results: GolfStat
CLU Instagram: http://instagram.com/clusports#
W Golf Instagram: http://instagram.com/clu_golf/
CLU Twitter: https://twitter.com/clusports
W Golf Twitter: https://twitter.com/CLUGolf
CLU Facebook: https://www.facebook.com/clusports
Hashtags: #clusports #ownthethrone #goregals #theSCIAC #ncaad3 #purplepit